Sports
Imo To Host 2023 National Volleyball Championship -Nimrod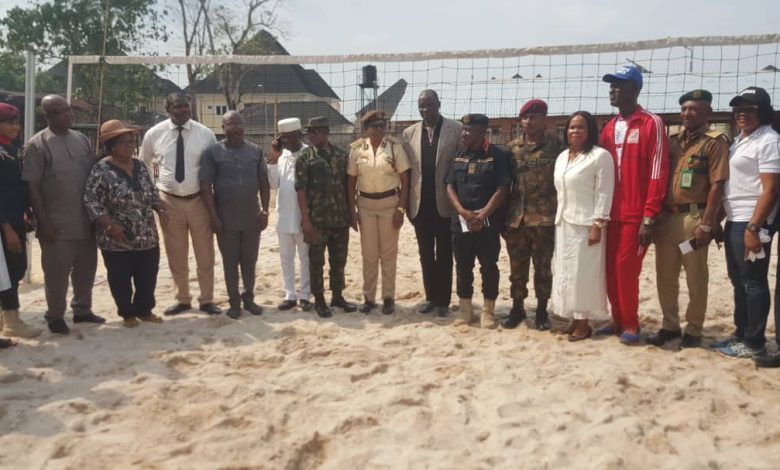 Photo: Engr. Musa Nimrod, the National President Nigeria Volleyball Federation and Mrs. Nkechi Ezugwu, his 2nd Vice President and Chairman Nigeria Volleyball League Management Committee with other dignitaries during the commissioning of the Standard Beach Volleyball Pitch at the open space of Federal Secretariat, Owerri.
From Everest Ezihe, Owerri
President of Nigeria Volleyball Federation Engr. Musa Nimrod has thrown his weight behind the plans for Imo State to host this year one of the prestigious National Volleyball Championships just as Mrs. Nkechi Ezugwu, the Chairman Nigeria Volleyball Management Committee is seriously seeking to collaborate with Imo State Government towards its realization and sponsorship.
Nimrod revealed this last weekend at Federal Secretariat Complex, Owerri as a special guest of honour during the well attended commissioning ceremony of Beach Volleyball Court, built and presented by Ugwu who's also the Comptroller of Immigration Service, Imo State Command.
He commended the Comptroller for sponsoring the establishment of the court despite the nation's economic meltdown advising that it's an opportunity for the State to use the facilities and groom strong volleyball teams that could participate actively during the forthcoming National Volleyball Tour Competition and if they win either first, second or third best position, which he assured will qualify them within the year to also participate in the world-class national championship.
According to him, "I will make sure that the Federation gives her 100% support in ensuring that Imo State gets the hosting rights of one of the Federation's national championship. It will at least serve as part of the appreciations for the tremendous contributions of Mrs. Ezugwu as the Federation's 2nd Vice President and Chairman of the Federation's National League Management Committee in the growth, development and transformation of the sports in the State and the nation at large".
Nimrod who's also a distinguished Patron of Sports Writers Association of Nigeria, SWAN informed that as part of his administration's efforts in sustaining grassroots development of the sports that he is seriously planning to reorganize U-17 national competition to be hosted also in Imo State.
Earlier in her welcome address, Mrs. Nkechi Ezugwu, pcc fdc recalled that when she resumed duty in Imo State as the 30th Comptroller of Immigration and as a sports lady and lover that she was compelled to establish some sporting activities and even resuscitated some existing sporting activities.
Ezugwu who said she has special passion for volleyball as a child and actively played the game while growing up reiterated that the Beach Volleyball Court is one among the numerous sporting activities she was interested in establishing expressed gratitude that the court she built is the only standard Beach Volleyball Court in Imo State.
The Chairman of Volleyball League Management Committee lamented that most of the national competitions concerning the sports are hosted up North and vowed to change the status quo through her plans of engaging in collaborative partnership with Imo State government.
She expressed gratitude to Engr. Musa Nimrod, the National President of Nigeria Volleyball Federation for making out time out of his ever busy schedules to commission the project and Engr. Dania Dennis, Controller of Works for given the space and approval for the construction of the court that would benefit over 64 agencies operating in the Secretariat complex, most of the workers she said are energetic young men and women that may develop interest in the sports.
According to her, " all work and no play they say, makes Jack a dull boy. It's with this statement in mind that we decided to establish this Standard Court for officers and men and all lovers of Volleyball in Owerri metropolis to take advantage of this for their recreational activities.
It's a known fact that sports has in no small measure taken people to places of prominence and affluence around the globe. Therefore, it's no gain saying that this court will definitely raise men and women into affluence and prominence" she assured.
The event was witnessed by Imo State government top functionaries, Heads of Security Agencies, Heads of Federal Government Agencies and parastatals, Imo State Sports Commission among other eminent personalities.
Highlight of the occasion was novelty match between Imo State Heartland Strikers, Team A, wearing navy blue jersey and Team B, wearing pink pitched coloured jersey. The game was entertaining with skillful displays, however Team A humiliated Team B, 25-22.