Politics
Imo workers celebrate Uzodimma's victory, Elders Council, IPAC too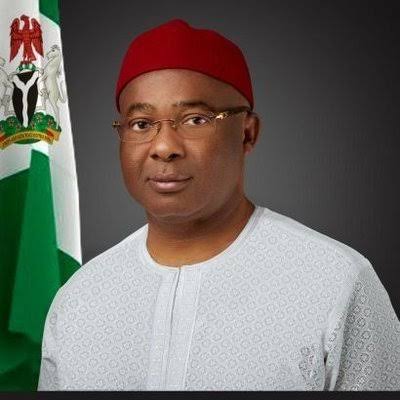 It was celebration galore at the Government House Owerri on Tuesday as workers in Imo State trouped out in their numbers to celebrate the reelection of Governor Hope Uzodimma.
Also same day, members of the Imo State Elders Council and the Inter Party Advisory Council (IPAC) stormed the Government House Owerri to celebrate with Governor Uzodimma on his victory at the polls and to assure him that they are solidly behind him on his electoral victory.
The civil servants, led by the Head of Service, Barr Raymond Ucheoma and his Permanent Secretaries, had turned out in their numbers, danced and prayed to God for granting their  requests to have Governor Uzodimma reelected because of what he has done for the workers in particular and the State in general.
Members of the Imo State Elders Council were led by their Chairman, HRH Eze Cletus Ilomuanya while the politicians under the umbrella of Inter Party Advisory Council (IPAC) were led by Ichie Livi Ekeh of the Zenith Labour Party (ZLP).
The IPAC members had called on their candidates who took part in the Saturday November 11 governorship election in Imo State and lost to forget about any form of litigation and support the Governor, saying that Governor Uzodimma's victory was not only overwhelming, but that the process that gave him victory was largely free, fair and credible.
Among them were the five governorship candidates – Dr. Iwuanyanwu Isaac (Booth Party), Edoziem Clinton Chibuike ( Allied People's Party), Isiodu Uchechukwu (PRP), Prince Andy Anyadike( Zenith Labour Party) and Dr. Lawrence Cole Okwara (NRM) – who congratulated Governor Uzodimma on his re-election.
Other IPAC Parties in attendance were the All Progressives Grand Alliance ( APGA) and Action Alliance (AA).
They described his re-election and victory as well deserving and promised to mobilise the other governorship contestants to ensure they are on the same page on the Governor's victory and the need for them not to waste their resources on needless contestation in court.
In his address, Eze Ilomuanya said they came to congratulate the Governor on his re-election victory and to thank Imo people, security agencies and even the governorship candidates in particular for accepting the result and quickly congratulating the winner.
Eze Ilomuanya called on his fellow Elders to continue to make sacrifices that will ensure peace and harmonious coexistence in Imo State.
He implored the Governor to strive and improve on the achievements he recorded in his first tenure in office.
Some of the Imo Elders who came to congratulate the Governor include Engr. E. C Iwuanyanwu, Chief Greg Mbadiwe, Justice Benjamin Njemanze, Prof Maurice Iwu, HRH Eze Oliver Ohanweh, Princes Gloria Akobundu, Sen. Chris Anyanwu, Rt Hon. Maxwell Duru, among others.
Explaining the reason the civil servants came to congratulate the Governor, Ucheoma said his reelection was not just free, fair and credible, but that the winning indicates how much the Imo civil servants in particular and the people of Imo State at large love Governor Uzodimma.
Ucheoma recalled the good things the Governor has done for the Imo civil servants and said his re-election means a lot to them because Governor Uzodimma has now been repositioned to do more for them and the State.
The civil servants proceeded to present a gift of an art impression of the Governor, and a congratulatory cake which Governor Uzodimma cut with his deputy governor- elect, Lady Chinyere Ekomaru,  key civil servants and some top government officials.
Responding, a happy Governor Uzodimma assured the Imo workers that the loyalty they have shown that culminated in the reform in the civil service, increase in the emoluments, constant payment of salaries, including the 13th month, payment of minimum wage and recently, increase in their minimum wage, are pointers to better things to happen to them.
He urged them to remain committed to their duty as his plan is to make Imo civil servants the envy of other workers in Imo and elsewhere.
To the IPAC members, Governor Uzodimma said in every contest there is bound to be a winner and a loser, but that it is gratifying to note that IPAC members have shown that in the just concluded governorship election in Imo State, there are no bad losers.
He thanked them for coming to identify with his victory at the polls and assured them that everyone has a role to play in making Imo the State of our collective dream.
Addressing the Imo Elders Council members at the New Exco Chambers, the Governor assured them that the confidence reposed in him by the re-election will not be betrayed and that the renewed mandate is a challenge to him to do more for the people.
He thanked the Elders and also congratulated them on his victory on behalf of the Government and people of Imo State.
The Governor said their sacrifices and contributions, as well as their ideas helped to reduce political tension with the concept of the Charter of Equity.
He said that he was not surprised over his victory "because Imo Elders as well as Stakeholders took a decision that went beyond political and ethnic inclination."
The Governor recalled that "the Charter of Equity was a proactive measure to remove acrimony and tension that had enveloped Imo politics in the past, it was a decision the elders took in good faith," insisting that he was not just convinced but that he bought into the idea.
He assured the elders that his successor will be produced by the Charter of Equity.
Continuing, Governor Uzodimma informed that the journey to a new Imo has started, saying that despite every distractions in his first tenure he was able to achieve results which helped and encouraged Imo people to re-elect him.
He appealed to the elders to go home and relax as he will get it right.
Governor Uzodimma said he will use the renewed mandate judiciously, with the fear of God and will not allow mischief makers to derail the good programmes and policies of the 3R administration.
The Governor who appealed to the elders to always guide their utterances, said that the Imo Citizens will always refer to what they said and go by that, reassuring them that the next Governor will not come from Orlu zone.
On the workers strike, the Governor informed the elders that it is on record that Imo workers are not owed a dime as salaries, noting that despite all odds he was able to clear backlog of judges' salaries he met on assumption of office in 2020.
He said if at all some workers are being owed, it may not be up to 2% "and it is because there are discrepancies in their records or they are fraudulent in their payroll records."
The Governor said that having achieved automation of salaries and pension his government is now embarking upon "installation of clock-in and clock-out" system to check truancy in work place and to fish out some workers who get their regular alerts when they don't even come to office.
On the problem of Nigerian Labour President, Comrade Joe Ajero, the Governor regretted any assault on him but condemned in its entirety the way and manner the President ignored his root and decided to besiege the State as though there are no authorities or government in Imo State.
He said that the entire scenario is regrettable and told the elders that as Governor he will not succumb to intimidation of any kind.
Lady Ekomaru, Deputy Speaker, Amara Iwuanyanwu, Majority Leader, Dele Onyemechi, Chief Whip, Chigozie Nwaneri, Secretary to Government of Imo State, Chief Cosmos Iwu, Chief of Staff, Barr Nnamdi Anyaehie, Attorney General and Commissioner for Justice Barr COC Akaolisa, Commissioners, other political appointees and Sir Chukwuma Ekomaru attended and witnessed all the events.