News
Inaugural class of MultiChoice Talent Factory Academy graduates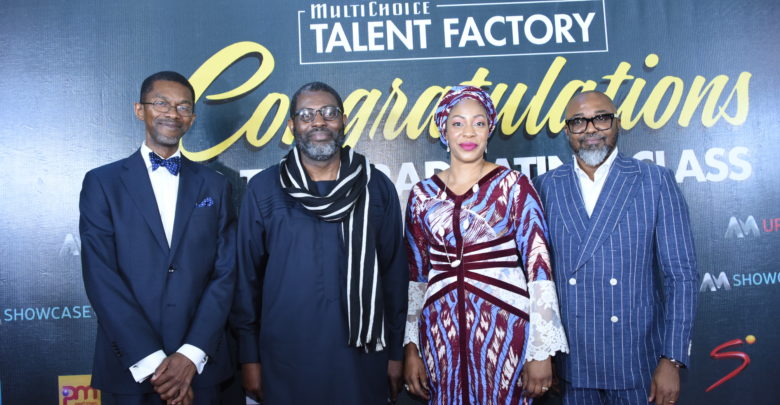 Photo: L-R Dean, School of Media and Communication, Pan- Atlantic University, Dr. Ikechukwu Obiaya; MultiChoice Talent Factory Academy Director, West Africa, Mr. Femi Odugbemi; Lagos State Commissioner for Tourism, Arts and Culture, Mrs. Shulamite Olufunke Adebolu; and CEO, MultiChoice Nigeria, Mr. John Ugbe, at the MultiChoice Talent Factory Graduation Ceremony, which held at Lagos Business School.

A total of 20 students on Thursday graduated as the inaugural set of the MultiChoice Talent Factory (MTF) West Africa Academy after a full-year, tuition free training in film and television production.
The graduation ceremony held at the Pan-Atlantic University, Lagos, where the graduates received their certificates, with some of them rewarded with scholarships.
The MTF Academy is a 12-month fully funded training launched in May 2018 to create a pipeline of skilled and talented movie professionals that produce high quality content that resonates with African viewers.
Speaking at the event, Chief Executive Officer, MultiChoice Nigeria, John Ugbe, noted that the 20 graduates from both Nigeria and Ghana were chosen from over 3,000 entries in 2018.
He commended the students, saying that their passion, dedication and willingness to learn helped them create magical moments throughout the course of the training and successfully complete the programme.
"From the first meeting with them at the welcome breakfast till now, I have watched them grow into confident and promising film and TV professionals; soaking up knowledge and skill from our esteemed Academy Director – Femi Odugbemi – and other leading industry experts who have tutored them. Their story that of growth," Ugbe said.
Ugbe enjoined the graduates to maintain the personal attributes which helped them preserve throughout the programme. He also encouraged them to use the skills learned to create a positive impact in the African film industry.
He said: "Today, as you prepare to positively impact the creative industry and change it one story at a time, remember – You are now part of a small but growing class of young, creative professionals equipped to tell Africa's stories through authentic lenses while recognising and embracing her growth possibilities and opportunities. You were not built to be an extra in this story nor were you built to break. You are the power that is integral to changing and owning our collective narrative."
Femi Odugbemi, MTF West Africa Academy Director, described the training as a landmark programme, noting that the students aptly demonstrated their skills as filmmakers.
"Over the course of the programme, the students expertly honed their raw talent into professional skill. This is the essence of the MTF Academy – giving upcoming talent the chance to hone their abilities thereby increasing the pool of available talent and world class professionals in the industry. This graduation is therefore a landmark moment both for the students and the programme," Odugbemi said.
Students who excelled during the programme were rewarded with scholarships and grants respectively.
Gilbert Bassey, a 26-year-old Nigerian, won a scholarship to enhance his skills at world-renowned New York Film Academy College of Visual & Performing Arts (NYFA) as he displayed his multidisciplinary abilities during the programme.
Also, Edmund Asamoah from Ghana won a two-week internship with Nihilent Limited, a Bollywood production.
Similarly, Joseph Adeniyi and Metong Minwon were rewarded with an AVID Media Composer Licence (in perpetuity) for the most-promising film video editor and an AVID Pro Tools License (in perpetuity) and dongle for the most-promising sound engineer respectively by Jasco Broadcast Solutions.
On his own part, Ugbe awarded the CEO Award for Entrepreneurship to two 24-year-olds, Kemi Adeyemi and Salma Saliu, for exhibiting great entrepreneurial skills during the year. They received $1,000 each for their exploits
The 2018 set of graduates produced two films while undergoing the programme. The first, Life of Bim, will air on Africa Magic Showcase (DStv channel 151) on 21 September, while the other, Dreamchaser, will air on 28 September on the same station.
Both films will also be available on the DStv Now app and on Showmax.