News
Iran bows to FIFA pressure on women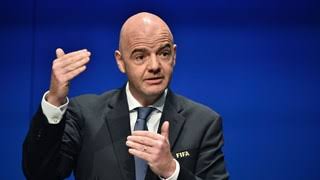 Iran will reportedly allow women to watch a 2022 FIFA World Cup qualifying match in October, ending a ban which has been in place since the 1979 Islamic Revolution.  
FIFA have been increasing pressure on the Iranian Football Federation (FFIRI) to end their long-standing ban on women entering Iranian football stadiums, with President Gianni Infantino writing to the governing body in June to seek assurances that women would be allowed to attend 2022 FIFA World Cup qualifiers.
Infantino gave the FFIRI a July 15 deadline to permit women to buy match tickets, which was missed. 
Islamic Republic News Agency has since reported that women will be allowed to watch Iran's match against Cambodia, taking place at Tehran's Azadi Stadium on October 10.
"Women can go to Tehran's Azadi stadium to watch the match between Iran's national team and Cambodia in October for the Qatar World Cup qualifier," deputy Sports Minister Jamshid Taghizadeh reportedly said. 
In addition, the Asian Football Confederation (AFC) have said they are working with FIFA to ensure female Iranian fans would be allowed to attend matches in the future. 
The ban has been relaxed somewhat recently, with 100 Iranian women allowed to watch the men's national team friendly against Bolivia last October and 500 women attending the AFC Champions League final match in Tehran between Persepolis and Japan's Kashima Antlers the following month.
Earlier in 2018, female fans were allowed to attend live screenings of Iran's first two games at that year's FIFA World Cup in Russia. 
Several women were arrested in June at the Azadi Stadium, however, having put on fake beards and wigs to attend Iran's friendly against Syria.
Two fans were also removed from the FIFA Women's World Cup match between Canada and New Zealand on June 15, having entered the Stade des Alpes in Grenoble wearing t-shirts that called for Iranian women to be let into stadiums. 
FIFA then backtracked on the ejection, saying that the message was social and not political and therefore not breaching any rules. 
Women in Iran also struggle to attend volleyball games, with a blanket ban on attendance issued in 2012. 
The rules became more moderate in June 2017, with Iranian authorities allowing only a limited number of pre-vetted women to attend matches.
It is not just Iran that ban women from watching sporting events.
Women in Saudi Arabia were not allowed to attend football matches as late as last year, and still cannot buy a ticket if unaccompanied.