Politics
It's Too Late to Attempt to Diminish Tinubu's Achievements – Sports Minister Sunday Dare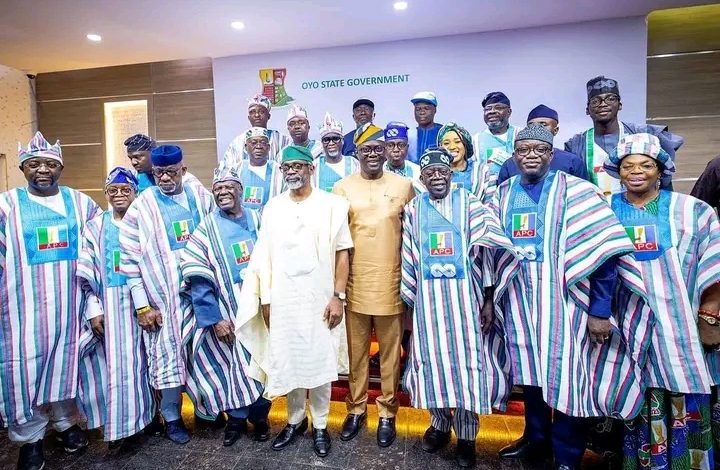 The Honourable Minister of Sports and Youth Development, Chief Sunday Dare has continued to canvass for votes for the All Progressives Congress, APC, Presidential Candidate, Asiwaju Bola Ahmed Tinubu.
The Minister has in the last three weeks taken the Tinubu Door-To-Door Campaign to the major streets, markets and areas in Ibadan and Ogbomoso, Oyo State.
According to the Agbaakin of Ogbomosoland, who spoke while featuring as a guest on a political programme on Omoluabi 87.7 FM, Ibadan, Asiwaju Bola Ahmed Tinubu has all it takes to lead Nigeria to greater height.
"It's too late in the day for anyone to try and diminish the innovation and achievements of Asiwaju as Governor of Lagos State. Through the years , Asiwaju has remained the consistent feature of our political development and if you are in the political circle at one point to another you would have engaged with Asiwaju Bola Ahmed Tinubu and if you didn't engage with him you would have engaged with people like us who have passed through the Asiwaju school of politics.
"Asiwaju with his level of education, intellectualism and exposure is someone that will continue the social welfare programmes that started under the administration of President Muhammadu Buhari. Asiwaju is someone who has helped so many vulnerable people. Asiwaju is able to build talented people who share the same passion, who have gone through the necessary academy training and experience.
"If you look at his success as Governor of Lagos State and you look at the people who were part of his team, the numbers of people that worked with him over time whether in individual or official capacities you will see that trait.
"I think that when he becomes President by the grace of God, he is going to assemble very carefully some of the best brains we have from across the country. He is someone that will invest in the Nigerian youth.
"Asiwaju is someone who has friends from all over the country, from the South West, South East, South South and North.
"Such political and business friends have been with him for over three decades. Asiwaju is truly known and has a track record that is verified," the Minister said.
Dare also explained that the Nigerian Youth have a role to play to ensure this election is secured so that everyone can vote peacefully and have the desired outcome.