Sports
IWF Executive Board strengthens commitment to anti-doping during in-person meeting in Rome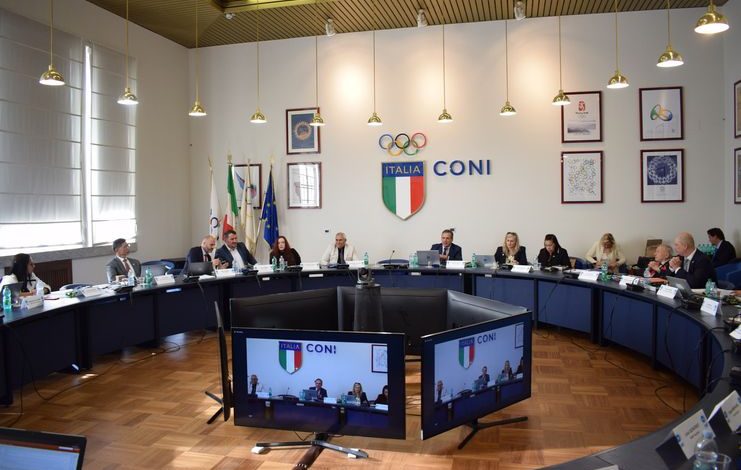 The International Weightlifting Federation (IWF) hosted an in-person meeting in Rome and reinforced its commitment to making improvements across anti-doping, governance, and its Constitution.
It was the first time that the IWF Executive Board has met in Italy and IOC Member and Italian National Olympic Committee (CONI) President Giovanni Malagò attended the start of the meeting to welcome the members to the CONI Headquarters.
The EB followed up on the work done since the last in-person meeting in July and the commitments that had been made, including looking into conducting due diligence of the IWF over the past ten years. Enhancing the IWF's robust anti-doping programme was also among the key items on the agenda and saw a presentation from Chair of the IWF Anti-Doping Commission Rune Andersen and Director General of the International Testing Agency (ITA) Benjamin Cohen. Proposals to further enhance the programme included expanding investigative powers, improving education, introducing minimum testing requirements for member federations, and addressing resources in intelligence and investigation. Special attention was paid to how the IWF can further enhance education among athletes, coaches, and National Federations.
Protecting clean athletes was a clear guiding principle in the proposal around updating the Olympic Qualification System for the Olympic Games Paris 2024 presented by IWF EB member Matthew Curtain, the IF Delegate for Paris 2024. The Executive Board agreed in principle to strengthen the Qualification System, subject to written approval from the IWF Athletes' Commission. Following IWF Athletes' Commission approval, the document will be sent to the IOC for final approval.
The EB also approved in principle a strict measure to exclude countries where out-of-competition testing is not possible as a further step to supporting IWF's zero tolerance on doping. The ITA with the Anti-Doping-Commission will look into the legal possibilities and prepare a proposal for the IWF EB as soon as possible.
IWF President Mohammed Jalood said:
"This meeting was very productive and engaging. The Executive Board is passionate about constantly improving weightlifting for the benefit of our clean athletes. The IWF's anti-doping programme is recognised as being one of the strongest among Olympic sports but we always want to go further and find ways to enhance it to better promote clean sport. This commitment to progress was clear in our discussions on anti-doping but also extends to our Olympic Qualification System, reforms on governance and the development of weightlifting."
During the Executive Board meeting there were presentations from the IWF Committees and an update on the Athletes' Commission elections, which will be held during the World Championships in December.
IWF General Secretary Antonio Urso delivered an update on the World Championships which will serve as the first qualification event for Paris 2024, as well as the IWF World Youth Championships in Tirana, Albania. Further progress reports were presented on the IWF World Junior Championships Guadalajara, Mexico and IWF World Senior Championships in Riyadh, Saudi Arabia.