Sports
Joseph Igbinedion: A Super Eagle in the making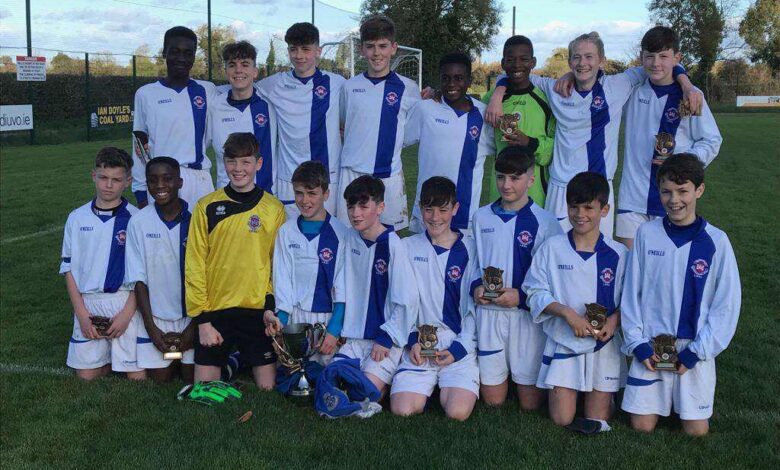 Photo: Joseph( squatting, second left) with the U14 Limerick District School League soccer team that won the Liam Donovan Memorial Inter-League Cup
By Nnamdi Okosieme
Your first impression of him is that of a sweet little boy. His handsomeness and his disarming smile portray the picture of innocence that readily win him admirers.
Joesph Igbinedion, the son of Efosa Igbinedion, an Ireland based Nigerian lawyer, is not innocent though when it comes to matters involving the beautiful game of football. Born on July 31, 2006, the lad who turned 14 years a few days ago, has football running in his veins. His mother, Izehiuwa, was one of the pioneers of women's football in the country. She was a founding member of both the Benin City Queens and the dreaded Ufuoma Babes FC, which in the early days of women's football in Nigeria, was the leading women's football club.
Izehiuwa would later quit football to further her education.
Joseph's mother, Izehiuwa was not his only link to football. His mum's elder brother, Ikponwosa Omoregie nicknamed Pele for his dazzling football skills, played for the Nigerian national team. Joseph, a student of Crescent Comprehensive College, Limerick, Ireland, will in September this year, move up to the 3rd year, the equivalent of the Junior Secondary School 3(JSS3).
As a budding footballer, Joseph is a beauty to behold in motion. Playing in the central midfield position, Joseph combines the pace and ruggedness of Cristiano Ronaldo with the deft tuoches and guile of Lionel Messi to produce a style and is at once mesmerizing and titilating.
Despite operating as a central midfielder, Joseph has on some occasions be deployed as an attacking midfielder and deep-lying playmaker. His football exploits at school has drawn the attention of football authorities in the area. Last season the lad played for both the U14 and 15 teams of Mungret Regional Football Club.
He was also called up to the Under 14 of Limerick District Schoolboys/girls League L.D.S.L(Association Football) boys team for the 2020 Kennedy Cup competition which is held annually in June featuring the best talents from the 31 schoolboys football leagues in Ireland. His dream of showcasing his skills at the tournament has been put on hold following the outbreak of the Coronavirus disease(COVID-19).

Joseph, who started playing football six years ago at the age of eight years is growing in confidence by the day. And his exploits on the field have been yielding fruit too. He was a member of the Under 14 Limerick District Schoolboys League (L.D.S.L)team that won the Liam O' Donovan Memorial Inter-League Cup 2019.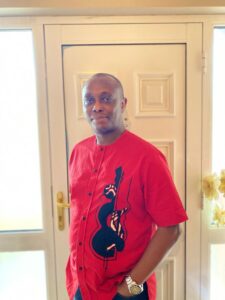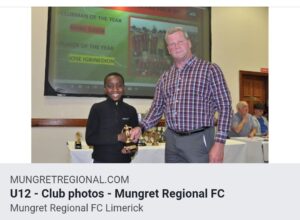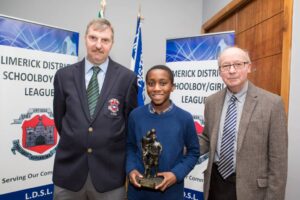 Aside team honours, Joseph has also garnered a few personal awards for his progious talent. In 2016 he was voted the Mungret Regional Football Club Under 10 Red Player of the Year. In the 2017/2018 season, he emerged the District Schoolboys/girls League (L.D.S.L) Under 12 Premier Division player of the year 2017/2018. The same season he was crowned the Mungret Regional Football Club Under 12 Premier Division player of the year 2017/2018.
Joseph's father, Efosa, is clearly pleased with the progress of his son on the field. An avid football fan himself, his dream is to see his son play football at the highest level. 
"Joseph loves football. He is working hard and improving everyday. It would be nice to see him play at the highest level. That will have to wait for sometime though. For the moment we ( me and Joseph's mum) are ensuring that he is grounded in academics. The life of a sportsman is precarious. One accident could derail an entire lifetime of ambition. We want to see him succeed on both sides," the elder Igbinedion said.
His long term plan for the lad is to see him donning Nigerian colours like his famous uncle. He believes his son would be an asset to the Nigerian national team when he eventually gets called up to play. For the moment though, the lad is learning the ropes and carving a niche for himself at junior football level where he is wooing  football fans with his breathtaking skills.
Mike Okafor, a sports analyst, who says he has seen video footages of Joseph in action believes the lad will become one of the leading footballers in the world if nothing disrupts his progression.
"I have seen the boy play. He is good and reminds you of a player like the former Manchester United captain, Keane with the way he takes charge in the midfield. His confidence is amazing. I cannot wait to see him grow up and begin to play for the Super Eagles," Okafor said. 
That will be a while yet. For the moment, Joseph is having fun, playing the game and attracting attention of locals. Hopefully, before long, top clubs in Ireland and may be even England will give him a look in.
"That would be very nice," Jospeh's father says. "However, that isn't our major preoccupation for now. We want him to grow into a fine young man, academically sound and focused. A football career will be good but what is more important for him will be to take things one step at a time," he said.