Sports
Katsina moves to upgrade Karkanda Stadium floodlight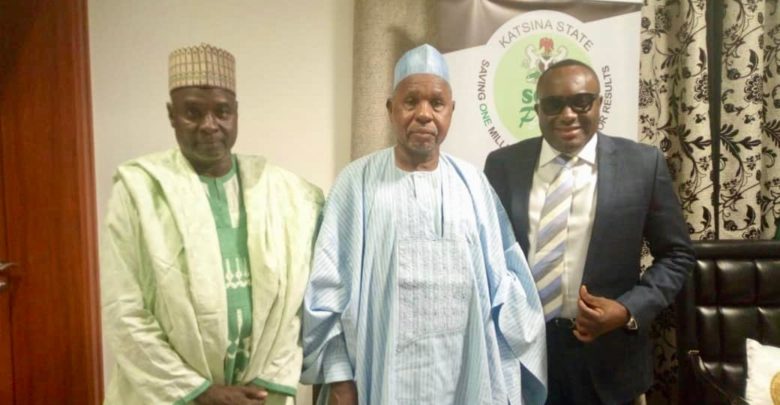 Photo: Katsina state governor, Aminu Masari (m) with Monimichelle's CEO, Ebi Egbe (left) and Katsina State sports commissioner  Abdu Habu Dankum.
The Karkanda Stadium in Katsina would soon get a new state of the art floodlight, if plans by the Katsina State government are anything to go by.
The contractor that handled the geotech turf of the stadium, Monimichelle has already struck a deal with the state government on how to go about the project which would involve re positioning the floodlights.
The need to re position the floodlights arose following complains from Aviation authorities that the stadium floodlights affect aircrafts flying in and out of the Katsina airport.
Chief Executive Officer of Monimichelle, Ebi Egbe, told newstap.com.ng that he has taken note of what the aviation authorities complained about and would get the job done.
"We have studied what the aviation authorities complained about. We have taken our measurements and we know what to do. By the time we are done, the Katsina stadium floodlights would be the best in the country. It is going to be the latest technology when it comes to stadium floodlights. Katsina has in Gov. Masari a man who is passionate about sports and he wants to leave a sporting legacy that the state would continue to enjoy for a long time," Egbe said.
Egbe noted that Gov Masari had some months back hosted the elective Congress of the Nigeria Football Federation (NFF), a move that brought peace to Nigerian football.
"I m confident Katsina would soon be hosting the nation's national teams, given the facilities at the Karkanda Stadium," Egbe said.