Sports
Lagos State Weightlifting Association unveils new equipment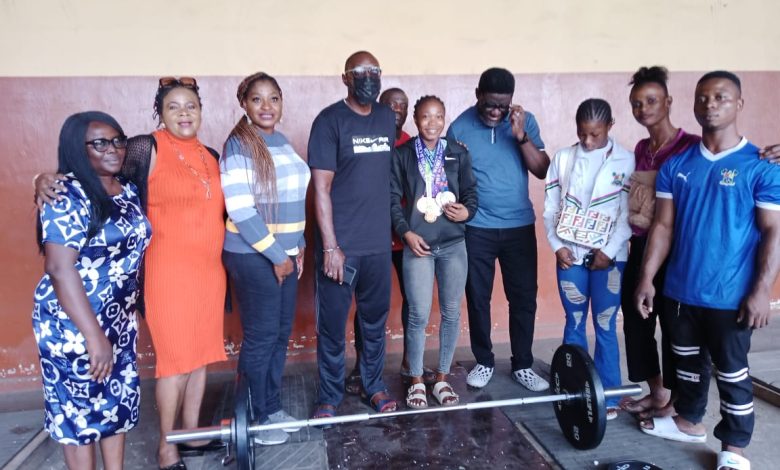 By Ifeanyi Eduzor
Chairman, Lagos State Weightlifting Association, Kunle Komolafe says the board will continue to explore all avenues in ensuring the state's athletes perform better in the sport.
Komolafe said this at the unveiling of weightlifting equipments at the Rowe Park Sports Center Yaba, Lagos.
In a bid to ensure athletes do well at major competitions board members of the Lagos State Weightlifting Association during the week unveiled equipment for the sports men and women to train with.
A set of female weight comprising barbel and disc was part of efforts to equip the weightlifting gym with quality and up to date equipment to aid athletes discovery and put them in top shape at all times.
The Chairman said the gesture is born out of the desire to see the athletes succeed in the sport.
He said both the state and the Federation are already reaping the benefits of good training equipment following the feat recorded by Adijat Olarinoye at the just concluded Commonwealth Games in Birmingham where she won gold for the country.
"The board was motivated by the feat achieved by Adijat Olarinoye at the Commonwealth Games and with more modern equipment, Nigerian lifters can become world beaters in no distant future. The equipment will assist in accelerating the growth of weightlifting in Lagos State and by extension Nigeria", komolafe said.
Adijat Olarinoye commended the association for the gesture stating that the equipment will spur the athletes to give their best at all times.
Director General, Lagos State Sports Commission, Oluwatoyin Gafaar was full of praise for the weightlifting association led by kunle komolafe for their efforts in developing the sports in the state just as he called on other associations to emulate such drive in making Lagos state the number one sporting destination in Africa.
Meanwhile, Chairman of Lagos State Weightlifting Association Kunle Komolafe has promised Kadijat Olarinoye a cash reward of N500,000 for the gold medal she won at the Commonwealth Games.
He also promised to provide more weightlifting equipment for the state athletes soon.