Sports
Lima 2022: Hungary top Freestyle events as Portugal, Spain shine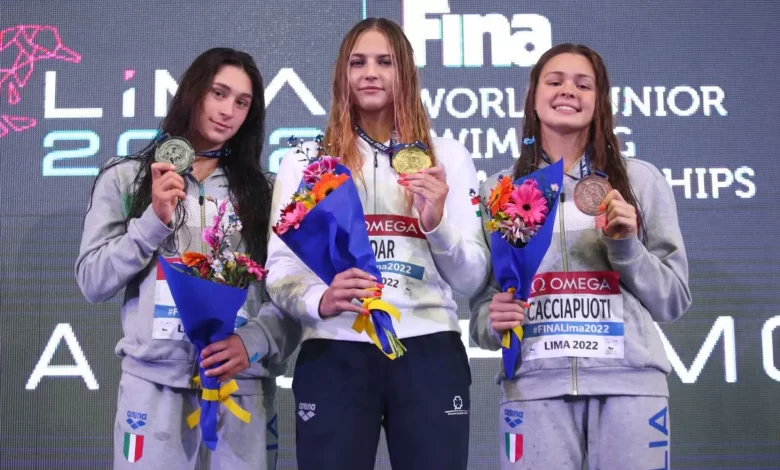 By Gregory Eggert, FINA Media Committee
After three days of competition, Hungary leads the gold medal count thanks to Nikolett Padar. The fastest in the 100m Freestyle final, dove back in moments later to lead the Hungarians to a remarkable comeback victory in the 4x100m Mixed Relay event.
Japan also claims a second gold medal with Japan's Yuzuki Mizuno, while Spain (Carlos Garach Benito) and Portugal (Diogo Matos Ribeiro) can celebrate their first golds at the 8th FINA World Junior Swimming Championships in the Peruvian capital of Lima. 
In the 50m Backstroke semi-finals South Africa's Pieter Coetze, silver medallist in the 100m backstroke, chiselled his name into the record books again tonight by swimming a new championship record of24.58 as the top seed in the event.
DAY 3 FINALS
WOMEN'S 200m BACKSTROKE 
Japan's Yuzuki Mizuno swam 2:09.79 to claim her first gold medal. She led from start to finish to narrowly defeat Hungary's Dora Molnar by only 1/100ths of a second. Molnar earned her second individual medal having won the 100m backstroke earlier in the meet.  Poland's Laura Bernat of Poland added another medal, bronze, for her country's war chest, finishing 1.30 seconds behind the new junior champion from Japan. 
"Before the race I was a bit nervous. Earlier today, my body condition was not perfect, but I had my best time.," Mizuno said in the postrace mix zone. "I enjoyed the race and I am very happy with the result.  I started swimming at age five and by age eight I chose backstroke as my preferred stroke"
MEN'S 100m BUTTERFLY
Diogo Matos Ribeiro won Portugal's first medal in Lima, and a shiny gold one at that, in a time of 52.03. Ribeiro swam the semi-finals of the 50m freestyle earlier in the session, advancing to tomorrow's finals with the second-seeded time.  Ribeiro split 24.12 on the first lap and came back in 27.91 to outlast Daniel Gracik of Czech Republic and Denmark's Casper Puggaard who finished .48 and .91, respectively, behind the new junior champion. The three medallists were the only men in the field to go under 53 seconds.
"It was a tough race for me as I had just swam in the 50m freestyle semi finals just a few minutes ago.  The first 50m felt a bit strange but I settled into my pace in the second half of the race," Ribeiro said. "I am thankful to my family who is here watching and to my teammates, my coach and my physio.
"Growing up I swam almost entirely freestyle but I am doing well swimming butterfly and I think I like them both"