News
Malls, Supermarkets Smile As PoS, e-Transfers Push Up Sales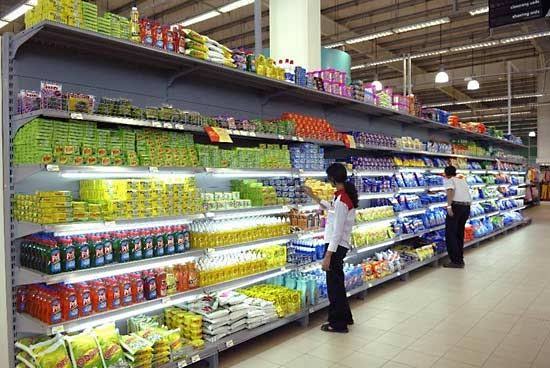 Malls and supermarkets in major cities are making huge sales, following the ongoing Central Bank of Nigeria (CBN)  currency reforms and redesigning of naira N200-, N500- and N1,000 banknotes.
The policy shift, has led to massive cash shortage, which  became pronounced in the past few weeks.
Many petrol stations are also focusing on PoS transactions, while some retail shops are now run 100 per cent on PoS and e-transfers.
"Our manager asked us not to take cash, whether new or old notes. All transactions must be either through PoS or e-transfer," a shop attendant, disclosed on the owner's decision to go completely cashless.
So far, the hardest-hit by the naira redesign policy are individuals, small businesses, transport firms and cocoa farmers who depend on Nigeria's informal economy, which the International Monetary Fund estimates accounts for more than half of the nation's gross domestic product.
Also, shop owners in the Federal Capital Territory (FCT), Abuja, said their sales volume has increased following the implementation of the CBN's currency reform programme.
The malls managers said they were recording tremendous sales as customers now use Point of Sale (POS) machines, and electronic transfers instead of cash.
Mr Sunday Ahmadu, who operates a mini supermarket along Jukwoyi road, said that his sales had tripled within this period, especially after the phasing out of the old naira notes.
Another provision and foodstuff trader, Malam Ibrahim Sule, also expressed excitement over the development, saying that the difficulty faced by people to access the new naira notes gave him an edge over other traders who lacked POS and electronic banking platforms.
Sule, popularly called Baba, said the volume of his sales had gone up as people who were stranded because of the cash crunch, were making his shop a last resort in purchases to feed their families and meet other needs.
According to him, there may be hitches in transactions most times, but that he can always reconcile with his banks because of his long time experience in POS transactions.
"Many desperate people are being referred to my shop because of the current lack of cash. This made me to introduce more perishable items due to popular demand. I am happy to meet their needs and make more money."
Mrs Nnenna Ozor, another trader, while narrating her experience said she used to be skeptical about online transactions, but recent events had forced her to embrace online transactions which was aiding her business.
Ozor listed the advantages associated with the cashless policy implementation to include; increased patronage, profit and curbing of debt by customers who often bought goods on credit.
She, however, said the only challenge in accepting the transfer was the refusal of other traders, especially petty businesses, to accept online transactions as they often requested for cash.
Also, a Professor of Psychiatric Medicine, Prof. Monday Igwe, has advised Nigerians to stay positive in the midst of scarcity of fuel and the redesigned Naira notes in order to overcome depression and other mental complications.
Igwe, who is the Medical Director of Federal Neuropsychiatric Hospital, Enugu, spoke on how best Nigerians can manage their psychological health in the face of the economic realities of fuel and naira scarcity.
"My advice to Nigerians is to cultivate features of positive mental well-being such as love, joy, forgiveness and positive appraisal of events," he said.
Additionally, authority of the Nigerian Federal Capital Territory Administration (FCTA), has deployed PoS terminals to make it easy for patients to pay for medical services.
The Secretary, Health and Human Services Secretariat of the FCTA, Abubakar Tafida disclosed this in Abuja, the nation's capital in the face of the current currency crunch across the country.