Sports
MGI Scrabble Grand Slam ends today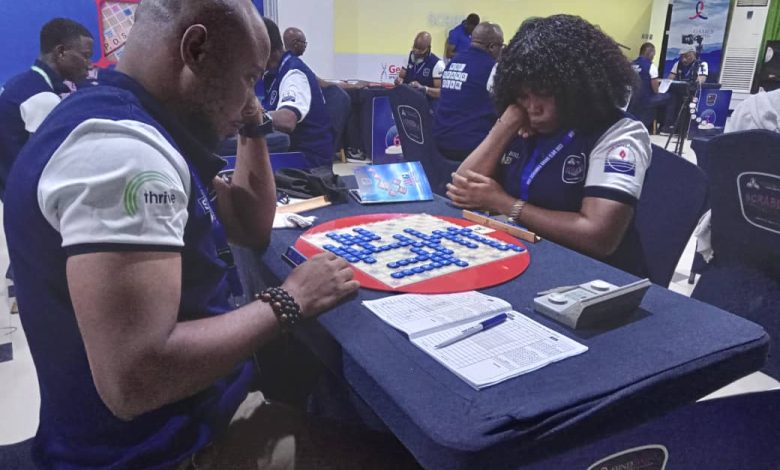 The prestigious 2023 Mindgame Incorporated (MGI) Scrabble Grand Slam Tournament ends today at the Golfview Suites and Conference Centre GRA-Ikeja, Lagos, South West, Nigeria with eight players still in the race for the top honour.
The eight players still in the mix are Hakeem Olaribigbe, Oluwatimilehi Doko, Nsikak Etim, Abdulmumin Jimoh, Wellington Jighere, Dennis Ikekeregor, John Aiyedun and Moses Peter.
Olaribigbe, with 15 wins and a plus 711 cumulative points takes a slim lead into the final four rounds of games in the King of the Hill. Doko with 14 wins and a draw with a cumulative points of plus 827 is second while Nsikak Etim is third with 14 wins and 866 points.
Abdulmumin Jimoh, Wellington Jighere, Dennis Ikekeregor, John Aiyedun and Moses Peter are all on 12 wins but Jimoh has a higher points of 711.
When action resumes this morning, Olaribigbe and Doko will continue from where they stopped on Saturday. Doko edged Olaribigbe 450-438 in round 20 on table one.
On table two, Nsikak Etim faces young enterprising Abdulmumin Jimoh that hit Sunday Oshodi in round 20, 541-392. Etim pushed Jighere down the pecking order with a 494-430 win as the curtain fell on Match Day 2.
The battle in the Delta creek is between two time African King Dennis Ikekeregor and another two time African Champion Wellington Jighere on table three while John Aiyedun and Moses Peter fight on table four with a slim chance of reaching the final.
A close look at the pairings shows that Doko Oluwatimilehi, Nsikak Etim and Hakeem Olaribigbe are the top contenders for the final round of best of five games after the King of the Hill rumbling.
Doko and Etim needs three more wins to seal their spot in the final while two will be enough for Olaribigbe. As for the 5 others with 12 wins, 4 more will give them a slim hope.
Bukunmi Afolayan the only lady in the house, had an impressive run on Saturday Match Day 2 with 6 victories that pushed her to the 19 position on log. Enoch Nwali, Samuel Adebola, Cyril Umebiye and James Ewruje are the other players with 10 wins just like Afolayan.
Ayotunde Adeyeri is leading from the back with 4 wins and a minus 1329 points.