Sports
MGI Scrabble Grand Slam: Jighere, Olaribigbe and Etim separated at the top by cumulative points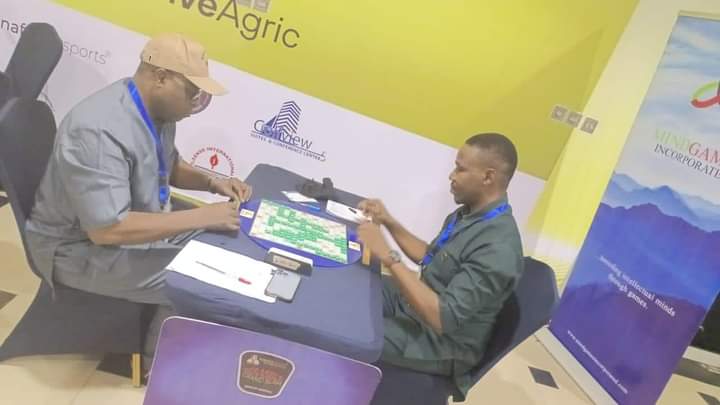 Former world champion and also a two time African King who is the defending champion of the MGI Scrabble Grand Slam, Wellington Jighere, started the defense of the title he won 12 months ago with a defeat in the hands of Adeyemi Adeosun the inaugural winner of the NSF South West Closed Championship on Match Day 1, 381-360.
The 21 points defeat left Jighere, 'The King of the Jungle' in the 21st spot on the table after round one. However, Jighere, never looked back again after that opening set back, he went on an 8 games unbeaten run before Hakeem Olaribigbe cut short the sweet run with a 542-365 win in round 10 to close Match Day 1.
Despite that Wellington Jighere, the 2023 North America Scrabble Players Championship winner will begin Day 2 of the MGI Scrabble Grand Slam in the pole position with 8 wins and a plus 583 cumulative points. Hakeem Olaribigbe, is 53 points shy of Jighere who shares the same number of wins with him just like former African Champion Nsikak Etim. Etim is on plus 482 cumulative points.
Wellington Jighere, will begin Day 2 action at the Golfview Suites and Conference Centre, GRA -Ikeja, Lagos, venue of the MGI end of season Scrabble Grand Slam with a date against a familiar face, Nsikak Etim in round 11 on table one.
Hakeem Olaribigbe, seeded 19th but sits on the second spot on the log after Day 1 meets Hurricane SC's Doko Oluwatimilehi the tournament's 5th seed. Oluwatimilehi, a pharmacy student of the University of Lagos has 7 wins and a draw with a plus 298 points at number four.
Two exciting and enterprising players Adeyemi Adeosun and Abdulmumin Jimoh are on 7 wins just like two time African Champion, Dennis Ikekeregor. Azu Ogbogu Samuel Adebola, Ojior Osikhena, Samuel Okosagah, Enoch Nwali, Tega Okiemute, Olobatoke Aka and Moses Peter completes the top 15 after Day 1.
The only female player that made the 2023 MGI Scrabble Grand Slam cut, Bukunmi Afolayan, has been able to take some prisoners with 4 wins at number 22 and minus 305 points.
Former African Scrabble Emperor, Femi Awowade, Segun Durojaye with a host of national championship titles under his arms and Dipo Akanbi a one time NSF national Green Jacket holder had a bad on the board while Enai Doubra's 1 win in 10 rounds of games leaves him firmly rooted at the foot of the 30 man table.
Ten rounds of games will be decided on Match Day 2 today at the one million naira top prize money event that enjoys three ratings, NSF, MGI and WESPA.