Sports
Monarch Events/ Entertainment, changing the face of Nigerian Pro- boxing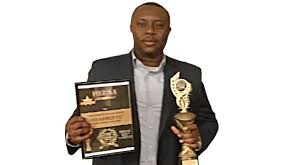 By Ifeanyi Eduzor
In recent time, boxing fans in the country have expressed surprise at the sudden decline in the sports that gave Nigeria it's first medal at the Olympics and World champion as far back as 1957.
They not only expressed concern about the slide in both the amateur and paid ranks but were at a loss of how a sports that attracts large followership in the past is now in a sorry state.
Investigation revealed that the absence of quality promoters have been the bane of professional boxing in the country while in the amateur cadre, the lack of committed sports administrators like late Group Captain Brai Ayonote and Col Ukor has put the game in comatose situation.
More baffling is that the game which was at the peak of it's glory in the country from the middle 50's to early 90's gradually lost it's redeem with smaller countries in the West African sub- region and Southern Africa dictating the pace for Nigeria at the World level of the paid ranks.
What further baffles boxing followers is that after Hogan 'Kid' Bassey of blessed memory won world featherweight title in 1957 by defeating French Algerian, Davey Hania in far away Paris, France followed by late Dick Tiger Ihetu who was two time undisputed world middle weight and Light heavyweight champion which he achieved in 1962 when he defeated Gene Fullmer and followed it up by dethroning Jose Toress of Puerto Rico in 1962 and voted as one of the best boxers in 1960's, the country has gone ahead to produce talented boxers who created waves at the world level and made the country proud but suddenly, everything went down.
This situation continued unabated until Samuel Peter defeated Oleg Maskaev to win the WBC heavyweight title and was celebrated globally by both Africans at home and in the Diaspora
After winning that world title, Nigerians thought that the rebirth of the game is gradually coming back; which was not to be as the euphoria that greeted that victory was shortlived as he lost the belt in his first title defence against Wladimir Klitschko and since then, the game nose dived with no Nigerian boxer winning a world title in all the divisions.
Going back memory lane, one will not forget the exploits of great boxers like Obisia Nwankpa who in 1982 narrowly lost the WBC Light welterweight title to defending champion, American Saoul Mamby in front of his home fans at the Mainbowl of the National Stadium, Surulere, Lagos nor the great deeds of fighters like Eddie Ndukwu, Abraham Tonica, Jerry Okorodudu, 'Smoking' Joe Lasisi, the Great Bash Ali and many others too numerous to mention who made their mark at both the WBC, WBA, WBO, IBF, IBO respectively thereby writing the country's name in gold.
At the amateur level, the most populous country in the continent also held it's head high winning medals at both the Olympics, World championship, Commonwealth and All Africa Games.
One will also not forget in a hurry the fighting prowess of pugilists like former amateur world champion, Davidson Andey, Peter Konyegwachie, David Izonritei, Duncan Donkiwari, Joe Erewa, Richard Igbineghu and Moses James who all won medals for the country at the amateur level and the Olympics inclusive.
But not minding all these achievements, the country's boxing suddenly took a nose dive with pugilists from Ghana, South Africa, Zimbabwe, Cote d'Ivoire, Namibia and even Botswana dictating the pace for Nigeria. Not only has the country lost it's grip in the sports but hardly will you see any Nigerian boxer being ranked in the top ten by any of the major world boxing bodies.
Part of the reason for the decline has been attributed to the absence of good promoters who will give opportunity to these boxers to excel as well as lack of government and corporate support for the country's fighters which led to many of them living in penury after hanging their gloves, a situation which also discourages new ones from embracing the sports.
Further investigation revealed that most promoters after investing in the game get discouraged because they could not recoup their investment with the boxers having tales of woes about poorly paid purse which is hardly enough to take care of their medication after slugging it out in the ring.
However, this trend is changing rapidly following the coming of Monarch Boxing Promotion to the stage.
Since the company led by its amiable President Prince Stanley Williams promoted it's first fight at the prestigious Eko Hotels, Lagos few years back which attracted some of the best boxers in the World and beamed live to boxing audience across the globe, it has continued to record one success after the other with many boxers now trying to fight under his stable.
It's interesting to know that Monarch Promotion is not limiting it's promotions to Nigeria alone as the company has promoted fights in Ghana and United Kingdom where Prince William is based. No wonder his last Promotion in December, 2022 at Eko Club, Surulere, Lagos attracted the President and top officials of WBO Africa and top Ghanian boxers including two boxers from Kazakhstan and Pakistan respectively.
His ingenuity in boxing promotion which is second to none in the country was on display with the boxers getting their purse and ring officials their allowances immediately after the fights which is unprecedented in the history of boxing promotion in the country.
One good quality which Prince Williams possesses which is different from other promoters before him, is that he's accessable and treat every body equal. Unlike other promoters who believe in master/ servant relationship, he has a listening ear and his doors are always open for good suggestions and ideas. He always mixes freely with his fighters giving them words of advice and encouragement which has endeared him to the boxers.
In order to ensure that fans get full value for their money, he also introduced top rated artistes who perform at intervals to the delight of fans and this help lighten up the stage and make fans rooting for more action as the event last.
It's interesting to know that Monarch
As a workaholic who does not play with the health and welfare of boxers which he explained is necessary for the fighters to be at their best, he ensured that qualified medical team were on hand before the bouts while insisting that any boxer who fails medical test prior to his fight is not allowed to climb the ropes to avoid any unexpected casualty.
Speaking on his decision to promote fights in Nigeria not minding incurring loses, he explained that it's part of his own contribution towards re- writing the country's boxing history and giving talented fighters opportunity to become future world champions.
" Our main target at Monarch Events is to give talented boxers opportunity to excel because we discovered that this country and the African continent is blessed with quality fighters but many of them are fight rusty without the opportunity of exhibiting their talents.
" You will also discover that for any boxer to be ranked by the various world bodies, he must fight regularly and what we're doing is not mainly for profit making but to ensure these boxers get adequate exposure that will enable them be in top form to face any opposition in their various weight categories and that's why we apply the best practices in promoting our fights.
It is interesting to know that not only is the company promoting male boxers but it has also promoted female fighters since it believes in the equality of all sexes and this has given hope to the female gender that they can equally march the records set by Laila Ali.
Although, there is no denying the fact that there are other promoters in the country but a close check on their activities indicates that they are poles apart from Monarch who have raised the bar in boxing promotion not only in Nigeria but the entire African continent.
With the way Monarch is commiting it's hard earned resources in the sports, there is no doubt that very soon, Nigeria will rediscover it's redeem in the game and produced world champions in boxing which is the dream of ardent boxing followers.
Kudos must however go to Prince Stanley Williams for not only believing in Nigerian boxers but investing heavily on them and it's hoped that his efforts will not be in vain but must be appreciated by all boxing lovers and stakeholders in the country including Corporate Nigeria and governments at all levels.
He needs the support of all to give hope to the hopeless and produce boxers who will write the country's name in gold which he believes will not be far in achieving.