Sports
Monimichelle will change the face of Nigerian pitches -Iloenyosi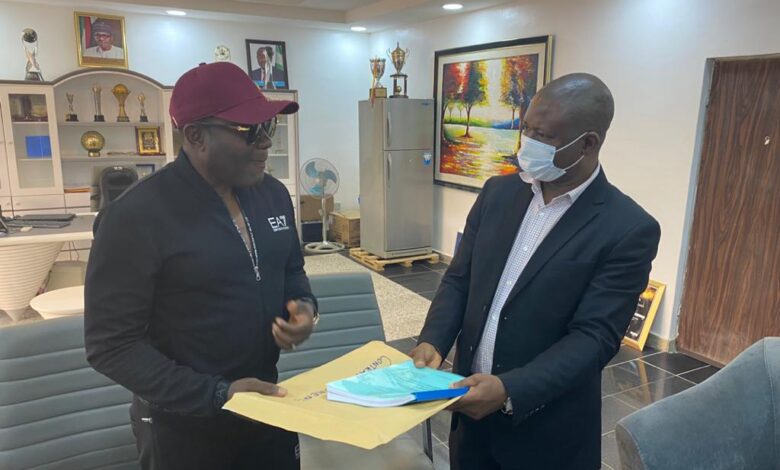 Photo: FIFA Goal Project supervisor, Charity Kadiri (right) and Ebi Egbe, CEO of Africa's foremost Stadium construction company, Monimichelle yesterday in Abuja after signing the contract for the FIFA Goal Project facility at Ogborodo-Escarvos, Delta State.
By George Aluo
Ex international, Chikelue Iloenyosi has given a pat on the back to Ebi Egbe, the Chief Executive Officer (CEO) of Stadium facilities construction company, Monimichelle.

Iloenyosi while commending the works of the indigenous sports company said if given the needed support, Monimichelle would change the face of Nigerian playing turfs, a situation that would rob off positively on the nation's domestic league.
"Monimichelle is doing a good job in different parts of the country. The job the company did  in Aba, Yenagoa and Katsina has shown that Monimichelle is the best in the country," Iloenyosi said.
Iloenyosi said he is confident Monimichelle would deliver on the FIFA Goal Project in Ugborodo-Escarvos, Delta State.
"I m happy FIFA has given the job to a competent company. Monimichelle would no doubt deliver on the project. I want to see him do more of his pitches in the country because we need good playing surfaces for our league to grow," Iloenyosi said.
It would be noted that several players, coaches and other football stakeholders have rated the quality of Geo tech pitches being constructed by Monimichelle as top notch.