Sports
National Youth Games: Plateau wins first gold medal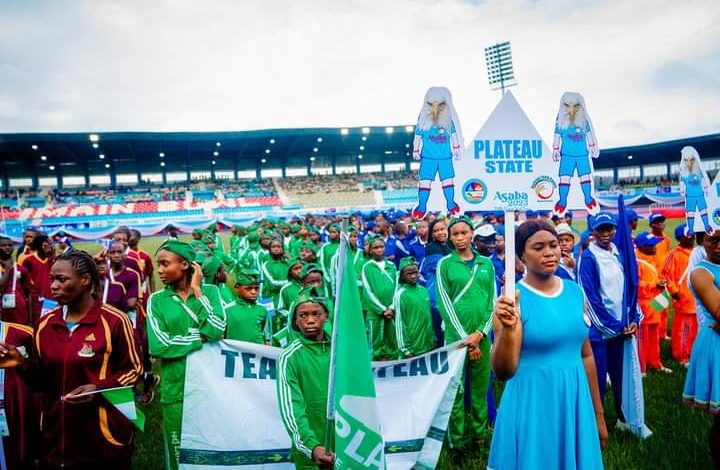 Plateau state is gradually picking up the pieces after a disappointing start at the ongoing 7th National Youth Games holding in Asaba, Delta state.
Results after day 3 of sports competition at the Games indicated that a gold medal was salvaged in Gymnastics.
Ruth Pullong Madaki took the Games by storm to claim the gold in Artistics Gymnastics: apparatus vault Horse. The Gymnast, tutored by the youngest Coach in Plateau, Micheal Adamu, will set sail for more medals as events continues today.
It was a nervy encounter between Plateau and Bayelsa as their male football teams locked horns earlier on Monday.
Ebuka Nsofor converted a corner kick with a header to put the ball behind the net. The win was enough to seal Bayelsa qualification for quarter- finals match with Kano state on Wednesday.
In female basketball, the lossing streak continues as the ladies from the Plateau lost two straight matches to Bauchi and Rivers, 2 – 3, 5 – 10, respectively, and if the team could overcome Oyo and Bayelsa on Tuesday, chances are that she may progress to the mext round.
Events in Weightlifting were rounded up on Monday with Plateau, for the first time, leaving empty handed. Christopher Joseph ended with no lift in the 55kg category to seal a disappointing outing for Plateau Weightlifters.
Samuel Johnson of the 35kg class in Judo was eliminated in the first round by Anambara.
In Cycling, Hosea Danjuma put up a resilient fight in the Individual Time Trials but his efforts was not good enough for silver ware. He came fourth in a pulsating ride towards the finishing line.
Speaking on the team's poor run, Alfred Gonyok, the Public Relations Officer of Plateau State Sports Council,said the state's athletes in Scrabble and Chess are making progress in their respective matches and only time will tell if they are good enough to mount the podium.
Sports events will continue Today, as Karate, Badminton Teakwondo, Athletics and Squash will also join the fray on the day.
So far, Plateau has won 1gold and 1bronze in the current campaign.
The Games is expected to last until the 30th of September, 2023.