News
Nekede graduate blasts clown who posted video of how she passed out through the back door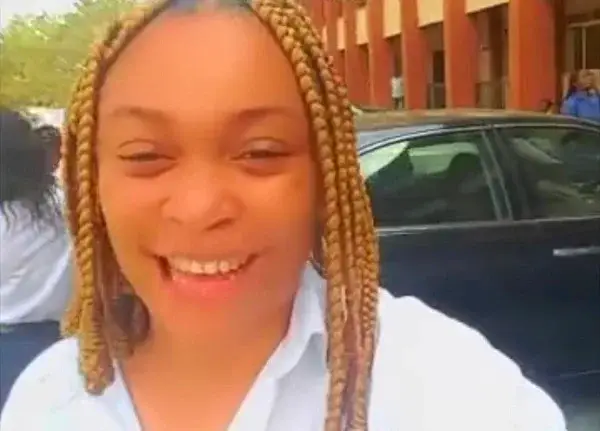 Photo: The lady on tik tok who claimed to have graduated with the help of her p**sy
By George Aluo
A proud graduate of Federal Polytechnic Nekede Owerri, Ngozi  Olivia Osuoha has declared that the institution is one where the academic skills of students are properly horned.
She spoke against the backdrop of one clown who went on social media to claim that she graduated thanks to her p**sy.
The very idiotic lady had further gone ahead to also bring God into her post as she said God and her p**sy saw her surviving the stress of Nekede.
Osuoha while countering the lady noted that she has been excelling since graduating from the institution.
Below is the post of Ngozi Olivia Osuoha…
"I am a graduate of Estate Management from the Federal Polytechnic Nekede, Owerri.
I was the Nkwerre Local Government Students' Association Vice President (Lolo) in my ND years, and I was the Estate Management Students' Association Vice President (EMSA) in my HND years.
I am currently an author of 26 poetry books, all published outside Nigeria.
Some of my poems have been translated into fifteen international languages.
The IVY League has ordered thirteen copies of one of my books for research.
My poems have been published in over fifty countries.
More than fifty online stores have my books.
I have been nominated for the BEST OF THE NET AWARD, PUSHCART PRIZE,…
I have also published more than three hundred and fifty poems in over fifty countries.
I have appeared in more than one hundred and sixty international anthologies.
Some of my books are in the United States Library of Congress, British Library, Oxford, Cambridge legal depository, Ireland…..
I have some experience in Banking and Broadcasting too.
I am an amateur tailor as well, I made the red gown I wore here.
I am currently working in a construction site.
I am Ngozi Olivia Osuoha, men of vision call me #ambassador
Men of repute and dignity know I am a #goddess
And men of integrity honour me.
I am proudly a #Nekedite"
It would be noted that the management of the institution has vowed to fish out the clown who in her video said she didn't earn her certificate in a transparent way.
The institution in a statement signed by its registrar, Eucharia Anuna totally condemned the act describing it as "despicable."
"This is to inform the general public that the Management of Federal Polytechnic Nekede, Owerri, has begun full investigations into the identity of the student who gloated on Tiktok about how she graduated with the help of God and her private organ," the statement reads.