Sports
New Era Girls emerge inaugural champions of Monday Gift Girls Cup 2023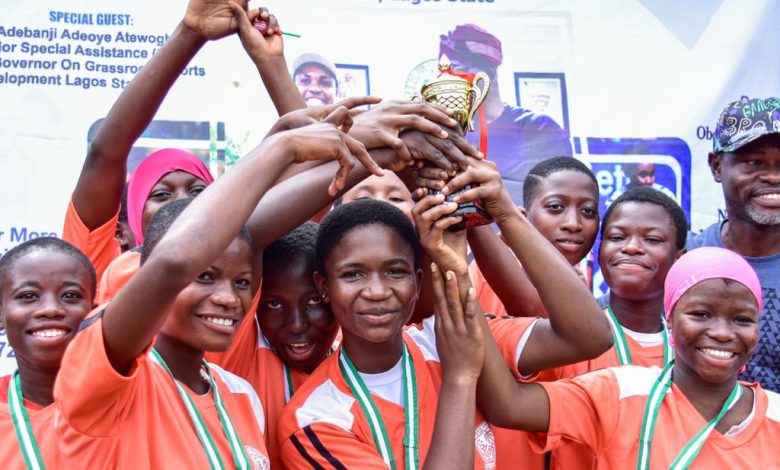 In a thrilling culmination of talent and dedication, New Era Girls Senior Secondary School emerged victorious in the maiden edition of the Monday Gift Girls Cup (MGGC) 2023.
The event, held at the Obele Community High School Ground in Surulere, Lagos, showcased the remarkable synergy between sports and education.
The championship, sponsored by the dynamic Gift Monday and expertly coordinated by Dr. Gbeleyi Olasunkanmi, aimed to engage girls aged 8 to 16 in grassroots football while imparting essential life skills. The participating juniors and seniors schools, including from New Era Girls, Obele Community, Araromi, and Coker Secondary Schools, displayed exceptional sportsmanship and talent.
The Senior Special Assistant to the Governor on Grassroots Sports Development, Mr. Adebanji Atewogboye SKIBANJ, graced the event, urging the young athletes to channel their efforts into both education and sports. SKIBANJ emphasized the holistic benefits of sports, not just as a lucrative profession but also for enhancing individual health.
The climax of the competition witnessed Master Edet Precious of Obele Community Senior Secondary School clinching the prestigious titles of Best Player, while the accolade for Highest Goal Scorer went to Master Taiwo Ayomide of New Era Girls Senior Secondary School. The stakes were high, with cash prizes totaling ₦150,000.00 awarded to the champion, runner-up, and third-place winner.
The Tutor General/Permanent Secretary of Education District IV, Mr. Segun Osinaike, along with other dignitaries, added to the grandeur of the event by their presence at the Teslim Balogun Stadium.
New Era Girls Senior Secondary School, where Gift Monday completed her secondary education, emerged as the well-deserved champions. The 2nd position was secured by Community Senior Secondary School, Obele, while Araromi Senior Secondary School, Orile, claimed the third spot.
The success of the Monday Gift Girls Cup stands as a testament to the transformative power of sports and education in shaping the lives of young individuals. This initiative, fueled by the vision of Gift Monday and the organizational prowess of Dr. Gbeleyi Olasunkanmi, marks a significant stride in fostering excellence across diverse fields.
While congratulating the participating schools, especially the champions, Gift Monday said:"Together, let's champion the dreams of our girls through the transformative synergy of sports and education. As we celebrate success in #MGGC2023, we invite partners and collaborators to join hands in empowering the girl child. Your support paves the way for brighter futures and limitless possibilities."
As the cheers echoed through Surulere, the MGGC 2023 not only celebrated sporting achievements but also reinforced the crucial role of mentorship and community engagement in empowering the next generation.