News
New ISTDAL president pledges support for Imo governor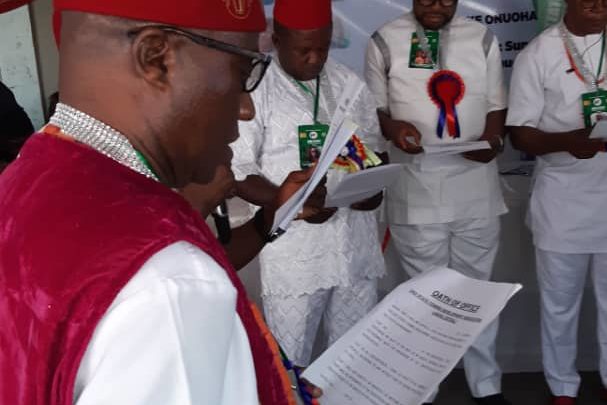 By Ben Ibe
President of Imo State Towns Development Association, Lagos (ISTDAL), Agu Chris Ekeocha (Onwa) has pledged to work with Imo state government for the development of the state, even as he pointed out that ISTDAL is not a political party.
Ekeocha who made the pledge after being sworn in alongside other executive committee members of the body early this week at the Imo Liaison office in Lagos said he would have a robust relationship with the Imo state government led by Senator Hope Uzodinma.
He promised to run an open door policy, ensure accountability and transparency insisting that the welfare of Imo indigenes in Lagos would take priority under his watch.
On his plans for the association, Ekeocha said he would build an ultra modern civic center that would boost the revenue base of the association, purchase a new vehicle to ease movement and make ISTDAL secretariat function properly.
He also pledged to promote Igbo culture through the staging of cultural carnivals and organizing events that would promote peace, love and harmony amongst Imo indigenes in Lagos.
Speaking at the event, the President, South East Towns Union, Chief Emeka Diwe tasked the new executives on the wellbeing and security of Ndigbo in Lagos.
Diwe urged the President of ISTDAL to encourage Ndigbo in Lagos to invest at home.
Also speaking at the occasion, the immediate past President of ISTDAL, Pastor Okey Anorue said he has handed over a peaceful association to the new executives, even as he charged them to maintain the status quo and take the association to a higher level. He said he has absolute confidence in the new leadership declaring that the Chris Ekeocha team would do well.