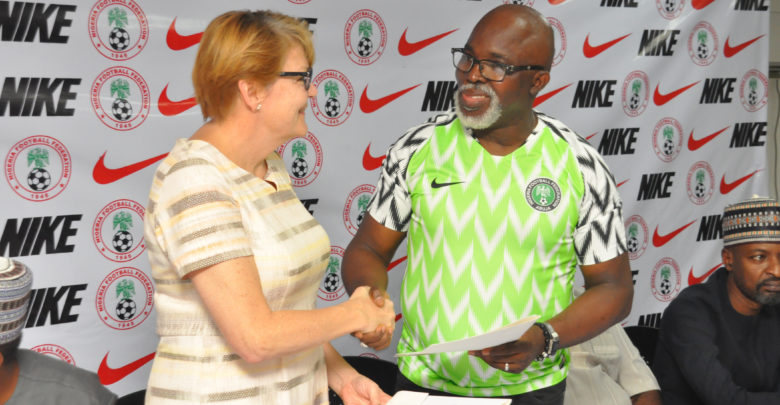 The Nigeria Football Federation and leading sportswear company, NIKE on Tuesday in Asaba, capital of Delta State signed a new, robust partnership agreement that officials from both organizations termed 'dawn of a new era.'
American kit company NIKE had teamed up with the Nigeria Football Federation in April 2015 following the departure of another global brand, but Tuesday's contract is seen by both parties as the real deal. The agreement is for four years at the first instance, with an automatic renewal clause that will take the marriage to the end of the 2026 FIFA World Cup finals.
"We need to know where we are coming from to be able to appreciate where we are now. A few months after we came on board for our first term in office, I was told that we needed to buy jerseys for the National Team to play a football match. That was how bad it was, because the kit sponsor at that time terminated the contract.
"So, I made contacts with some highly connected persons and worked hard to convince NIKE to come on board. We were coming from a weak position but they made the agreement flexible for us. Today, we are happy we teamed up with NIKE because after we qualified and participated at the FIFA World Cup in Russia, the company was the one chasing us for a new improved contract," President of NFF, Mr. Amaju Melvin Pinnick, said at the contract –signing ceremony inside the Stephen Keshi Stadium.
Chairman of the NFF Marketing, Sponsorship and TV Rights Committee, Mallam Shehu Dikko, who is also the NFF 2nd Vice President, said NIKE's faith in Nigerian Football and its encouragement all the way have been heartwarming.
"They never stopped believing in us and in our teams, and after they conducted their due diligence on everyone involved in the running of the NFF, they were very eager to sign this new deal as far back as when we returned from the World Cup in Russia. But we kept telling them to give us some time.
"We are very happy because this new agreement comes with good money on annual basis, more supplies, improved qualification bonus for our teams, door-to-door delivery of kits, royalty for the NFF on jerseys sold and it has now been expanded to include our women national teams."
The new agreement is also flexible with regards to market situation, and performance of the National Teams. "We have a window for renewal of this contract in 2023 but most terms of the agreement as presently constituted would improve should the Super Eagles make a huge impact at the 2022 FIFA World Cup.
"This contract brings a huge sigh of relief. Now, we do not have to worry about clearing kits at the ports because NIKE now has that responsibility to bring it to our door. All the National Teams are now captured, we earn money on number of jerseys sold and a new kit will be designed for Nigeria prior to the 2020 Olympics Games in Tokyo," Dikko added.
Tina Salminen, NIKE's Sports Marketing Director (African Football), expressed delight at the signing of the new contract: "NIKE is very, very happy with its relationship with Nigeria. The jersey we designed for Nigeria for the FIFA World Cup won the award as for Best Designed Jersey and was hugely popular. It has remained a source of reference in NIKE meetings and events ever since.
"Nigeria is one of the big teams in world football and we are happy to get them to sign a long term contract."
NFF 1st Vice President and Chairman of the Legal Committee, Barr. Seyi Akinwunmi assured NIKE that the NFF would abide by every letter of the new contract, and said the Federation is in fact looking forward to signing another much –improved deal after the 2022 FIFA World Cup.
Also at the event were NFF Executive Committee members Ibrahim Musa Gusau, Sharif Rabiu Inuwa, Yusuf Ahmed 'Fresh', Suleiman Yahaya-Kwande, Musa Duhu, Emmanuel Ibah, Chidi Ofo Okenwa, Mohammed Alkali and Ganiyu Majekodunmi, as well as former NFF Board Member Peter Singabele.