Sports
Nigeria can host AFCON 2019 -Egbe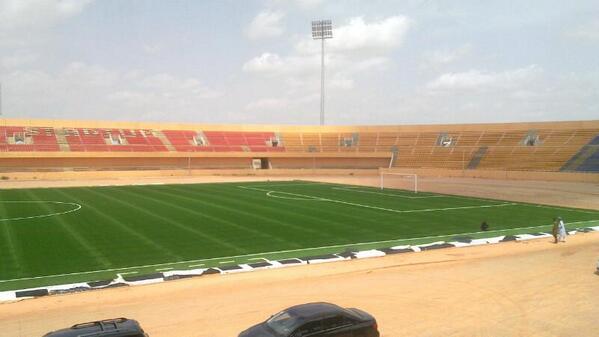 Photo: Karkanda Stadium in Katsina…turf constructed by Monimichelle
Following the stripping of Cameroon of the AFCON 2019 hosting right, sports facilities expert, Ebi Egbe, has called on Nigerian football authorities to bid for the soccer showpiece.
Egbe while backing CAF's decision to strip the Central African country of the hosting right noted that Cameroon doesn't not have the capacity to host the event which is Africa's World Cup.
He stated that Nigeria which prides herself as the giant of Africa should go for the hosting right as a way of proving that she is truly the number one nation of the continent.
Egbe who is the Chief Executive Officer of Monimichelle, a stadium construction outfit noted that given the number of stadiums available in the country, Nigeria can in three months time be ready to host the continent.
"We have so many good stadiums in the country. All that these stadiums lack is good playing turfs which can be fixed in less than three months. The stadiums in Abuja, Uyo, Enugu,Port Harcourt, Asaba, Katsina, Lagos, Makurdi, Aba, Kano, Kaduna, Gombe and Bauchi can host any major international competition. All that the government need do is to re grass the pitches. Talking about hotels, there are good hotel facilities in all of these cities and they all have airports and these are the things CAF would be looking out for."
Egbe said his outfit which did the pitches in Katsina, Makurdi, Aba and Yenagoa stadiums, can get the pitches of all the stadiums ready in two months if the federal government shows interest in hosting the tournament.
He stressed that Nigeria can use AFCON 2019 to address the problem of poor playing pitches which Super Eagles manager, Gernot Rohr, only last week observed as the biggest problem facing Nigerian football and home based players.
"Only last week Rohr said poor playing condition is the biggest problem of Nigerian football. Hosting AFCON would help us solve that problem. Beyond that, Nigeria would not be marching words with action over her leadership role in Africa if countries like South Africa, Morocco and Egypt continue to take the shine off us when it comes to hosting major international tournaments," Egbe said.