Sports
Nigerian, Ujunwa Nwankwo shines at world Shokotan karate championship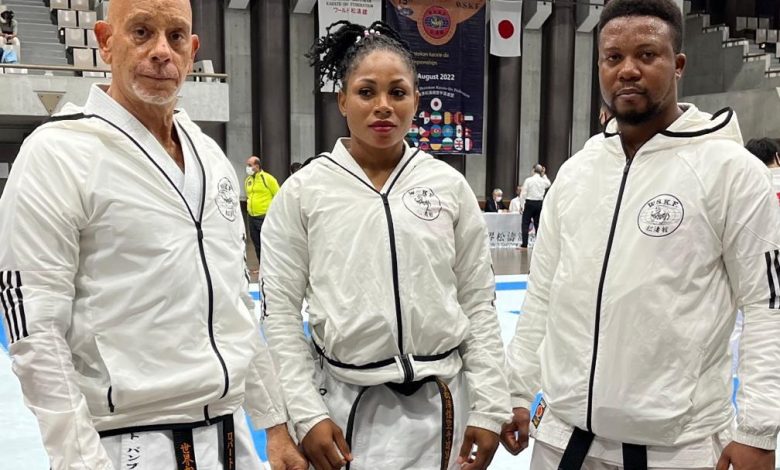 By Ifeanyi Eduzor
Nigeria shotokan karate Federation has added to the current success of team Nigeria at the just concluded Commonwealth Games in Birmingham as Ujunwa Nwankwo won gold in the open women category and bronze in 68kg category at the world championships in Tokyo Japan.
Also, she retained the title she won in 2019 at the same venue after defeating Celly Amaris from Panama.
Enroute to the final Ujuwa dismissed Yamazaki Masami from Japan in her first fight of the Tournament and triumphed over Natalia Sofia from Mexico in the second fight.
Nigerian representatives won 4 Medals in the ladies kumite, 1 gold and a bronze and in the veterans kumite and in kata, Silver and bronze.
The other team members includes; Robert Iyioukwe Ogah who missed out of the podium in the mixed team kata and Bob Bamboye the chief instructor who as well competed in the veteran category winning silver medal in the fight and bronze in kata.
Karate chief instructor, Bob Bamboye commended the team for a job well done and called for more support from the government and corporate bodies to assist the Federation in their quest to take karate to better pedestal
" The Federation is proud of Ujuwa Nwankwo's feat in Japan , all she needs is more encouragement to continue to fly the country's flag higher in the world"
Bamboye said.
Prior to the championship there was 4 days of Seminar and grading where the chief instructor of Nigeria Bob Bamboye was among two other chief instructors from other countries to lecture on the international seminar which was attended by over 30 countries.
The World Shotokan Karate-do Federation (WSKF ) championships in Tokyo, Japan took place on Saturday the 6th of August 2022.