Politics
Nov. 11: Ngor Okpala adopt Ikenga Okere as sole guber candidate, say it's our project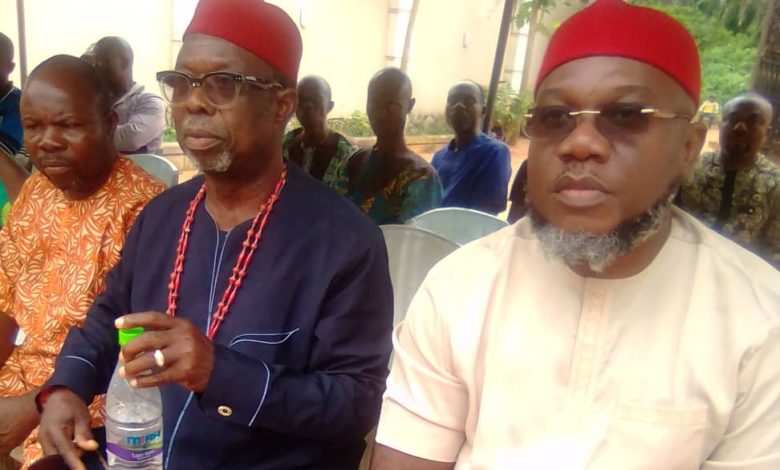 Photo: Ikenga JohnJude Uchenna Okere (r) and Chief Paul Osuji during the interactive meeting.
From Athan Agbakwuru, Owerri
Ahead of the scheduled November 11 off-cycle governorship election in Imo State, the people of Ngor Okpala LGA have declared their total support for the gubernatorial ambition of their son, Ikenga JohnJude Uchenna Okere of Accord Party and declared him their sole candidate for the coming poll.
The people gave their solemn endorsement Wednesday during an interactive meeting with leaders and critical stakeholders of Ngor Okpala hosted by concerned Patriots of the area at Ikenga Okere's country home in Umuolokochie of Ihitte Okwe Autonomous Community.
Addressing the large audience drawn from various, communities, political parties and social organizations, Chief Emmanuel Okereafor, who anchored the programme called for unity of purpose and collaborative action by all Ngor Okpala sons and daughters, irrespective of party leaning, in order to give Ikenga Okere victory at the polls.
Sir Okereafor from Igba Court Area who described the ambition of Ikenga Okere as worthwhile and timely said the era of parochial partisan consideration should be over and all focus must be on voting for one of their own since he has shown capacity by joining and remaining in the race thus far.
While lamenting the long neglect of Ngor Okpala in the scheme of things in Imo politics, Gburugburu, as he is popularly known, asserted that JohnJude's emergence as governor of Imo State will end the ceaseless cry of marginalization and maladministration in the state.
He posited that equity demands that the current governorship slot must come to Owerri Zone and Ngor Okpala having offered a credible character to fill the position should be supported by all indigenes and others.
"Orlu Zone has taken so much and still want more. This time is for Owerri Zone and an Ngor Okpala illustrious son is out for it, no going back. Let us make his election an Ngor Okpala project, not a party or personal matter. If we give our massive votes he will win the election, this I know," Chief Okereafor asserted.
Responding to Chief Okereafor's motion for adoption of Ikenga Okere as the sole candidate of Ngor Okpala for the coming guber poll, Engr. Chima Ukachukwu, on behalf of the youths supported the initiative and announced the unflinching support of the young folks of the council area.
Also, Engr. Collins Okereke, a chieftain of the Peoples Democratic Party, PDP, from Mbaishii Area, on behalf of the his people and the political class endorsed the candidature of Ikenga Okere insisting that this not the time for 'blind' party loyalty but a moment to be 'our brother's keeper.'
Chief Paul Osuji, an ex-diplomat from Obike Court Area, Mrs Dorothy Ekeh from Onyeaghalanwanneya court Area and Nze Festus Ifeanyi Ekeh from Okwe Courtarea on behalf of titled men, women group and community leaders and their areas respectively, wholly endorsed and adopted the Accord candidate as the sole governorship flagbearer of Ngor Okpala.
The speakers enjoined every person in the area to rise to the occasion to write the name of Ngor Okpala in the history of Imo politics by voting massively for Accord candidate come November 11.
Speaking earlier, candidate of Accord, Ikenga JohnJude Uchenna Okere, thanked the audience for honouring his invitation as well as endorsing his governorship bid and promised to work relentlessly until victory is achieved.
Okere who harped on the need for the infrastructural development of Ngor Okpala and Imo at large stressed that only someone who loves and values the area like himself can turn things around for the better.
"My candidacy in this race has added value to Ngor Okpala and improved our rating in the circle of Imo politics. Other candidates now see an Ngor Okpala man as the only threat to their aspirations. So let us see my ambition as that of Ngor Okpala and ensure we actualize it.
"It is incumbent on us to say here we are and nobody should take us for granted again. Crying every other day about marginalization won't do us any good. We have to stand up, assert ourselves and be counted.
"It's for the development of Ngor Okpala and Imo State that we are in this race, not personnel aggrandizement. We are coming with model leadership that will transform our state. We are coming to set a new leadership record in Imo for others to see that Ngor Okpala has the prowess," he declared.