Sports
NPFL: Elegbeleye commends GTI for laying transparent football ecosystem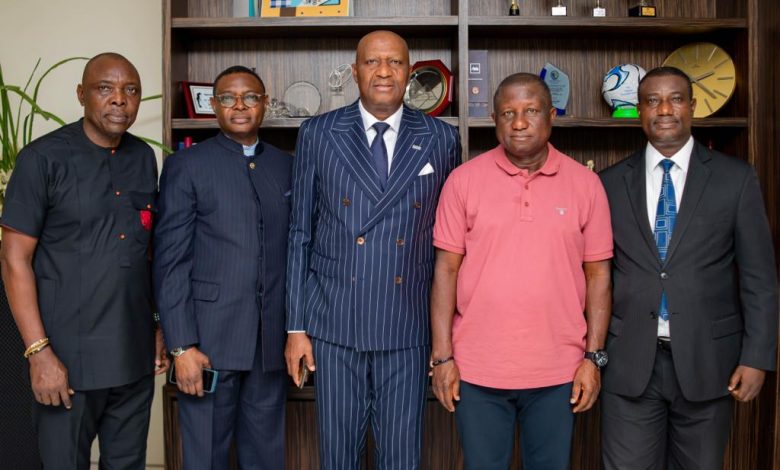 By George Aluo and Ifeanyi Eduzor
Strategic partner to the Nigeria Premier League ( NPFL) , GTI Asset Management and Trust Limited has received commendations from the Chairman of league's Interim Management Committee (IMC) Hon. Gbenga Elegbeleye for their commitment to laying a strong foundation and transparent football ecosystem in the country using the Nigeria Football Trust Fund (TNFF) as the vehicle in achieving the laudable dream.
He stated this during the unveiling of the new NPL logo and the NPFL championship Play- off draw in Lagos on Friday, June 2, 2023.
Elegbeleye recalled that the NPFL championship Play- off otherwise known as Super 6 will see the best of Nigerian League football on display as the six teams will trade tackles in a round- robin format beginning from June,3-11 and affirmed that the event will see the return of massive football celebration in the Centre of Excellence especially on the side of the winning team who will be returning home with the sum of N100million and the trophy.
Complimenting Elegbeleye's statement, the GMD of GTI Group, Abubakar Lawal affirmed that the company is employing every best international practice to give Nigerian football the desired break through.
" GTI is committing lots of material and financial resources towards ensuring that NPFL enjoys robust financial support in order to become self sustaining with necessary resources to ensure transparency in all it's dealings with investors, sponsors and other partners.
" We in GTI are proud to associate with the Nigerian Premier League in the execution of this project and we hope Nigerian football will grow from strength to strength going forward following the unveiling of the new NPL logo", Lawal said.
Head of Operations of LMC, Davidson Owumi acknowledged that expectations are high from Nigerian football fans, promising they won't disappoint.
" We're aware that expectations are very high and that's why we hit the ground running using the current abridged league as a test case and ensuring that we put in all necessary measures to uphold transparency; for example, indemnities of match officials and other critical stakeholders connected to the league are being administered seamlessly, using international best practices as our guide.
"As an organization, we are strongly committed to a very transparent football ecosystem which is the best way to restore confidence in our sponsors and investors", he said.
Owumi called on investors and stakeholders to key into the TNFF project and stakeholders of football in Nigeria to embrace GTI strategy of taking our beautiful game to the next level.
"NPFL is an asset that belongs to Nigerians and the effort of GTI at this stage is to encourage more Nigerians to become unit holders as early as possible to mop up the remaining units of the N5.0 billion that is expected to be raised through the funds. We wish the two teams luck in the championship Play- off", Owumi concluded.