Sports
NPFL Mid-season: High Marks on Stats, Enforcement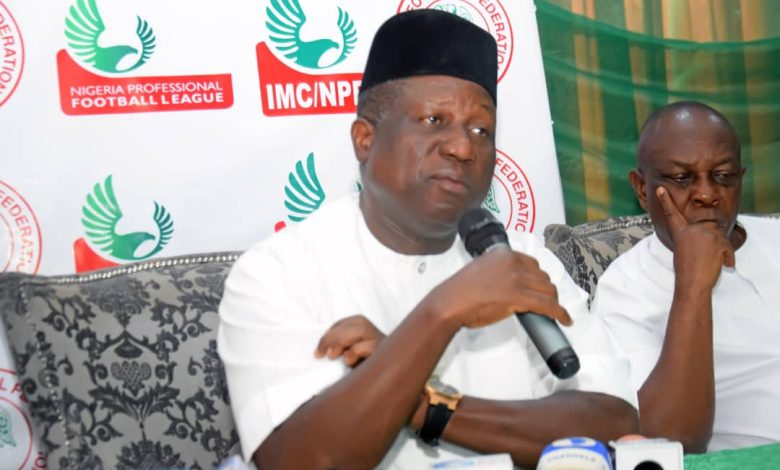 By NPFL Media Unit
At the outset, the Interim Management Committee (IMC) had a mission to start the 2022/23 season of the Nigeria Premier Football League (NPFL) and achieve a calendar that would have Nigeria aligning with those of Confederation of Africa Football (CAF) and Europe.
The calendar alignment was to achieve the twin purpose of having NPFL Clubs adequately prepared for CAF Club competitions and also afford the players unencumbered opportunity to join European clubs either by direct transfer or through trials.
Securing television broadcast of live matches of the NPFL was also on the bouquet of the IMC set targets which also included attracting sustainable funding through sponsorships. While the last two which are marketing objectives are long-term objectives, the cheering news is that the Committee led by Hon. Gbenga Elegbeleye has under one year of inception made remarkable strides in accomplishing both.
This report, however, seeks to crunch the numbers in field performances of the clubs, the players and administrative decisions.
As stated earlier the 2022/2023 season has progressed as planned in the official fixtures with the League paused at MatchDay 9 for the mid-season break.
To provide context, the IMC elected to run an abridged league season that had the 20 clubs placed in two equal groups of A and B in an open and transparent draw event held in January. The format was adopted to achieve the synchronisation of the NPFL calendar with that of CAF and Europe. It met with some measure of resistance from clubs but reason prevailed through dialogue and negotiation to pave way for the season to start on January 8 with a star fixture in Uyo between hosts, Akwa United and then newly promoted Bendel Insurance of Benin. The rest fixtures followed the next weekend and the season has rolled without hitches thenceforth.
With just one outstanding match involving CAF Confederation Cup participant, Rivers United, the fixtures have recorded a total of 89 games; 45 in Group A and 44 in Group B. Meanwhile, the lone leftover fixture between Rivers United and Rangers International would be played
on Wednesday, March 22
to complete the games of the first stanza and pave the way for the clubs to resume from the Mid-season break
on March 25
on even keel.
MATCH RESULTS
The halfway line of the season witnessed field contests at its best with entertaining and feisty fixtures that produced a combined 64 wins from 89 matches.
Group A produced 33 wins including Nine (9) wins by visiting teams while in Group B, there were 31 wins including five (5) won by visiting teams. Both Groups produced a total of 25 drawn games; 12 in Group A and 13 in Group B.
GOALS
Football commentators are won't to acclaim that goals provide the zest for every fixture and players in the NPFL seem to have been providing fans value for their time watching the matches either at the stadium or at home in front of their television.
With a combined average of plus two goals of 180 from 89 matches, the NPFL is holding its place in providing MatchDay highs. Of the total 180 goals, teams in Group A have netted 96 times from 45 matches while there has been 84 goals from 44 games in Group B.
Five (5) own goals were recorded in Groups A and B with three by clubs in Group A. A total of nine (9) penalties were awarded across the two groups and two (2) were scored out of the three (3) awarded in Group A while of the six (6) in Group B, five were converted.
Of the 96 goals scored in Group A, 63 were netted by home teams with visiting teams scoring 33.
TOP SCORERS
With just nine games played by each club, the goals' return by the players have been impressive with Enyimba's Emeka Obioma leading the quest for highest goal scorer with seven (7) in Group A while in Group B, Robert Mizode Christian of Bayelsa United leads with six (6).
CAUTION AND EXPULSION
In the 89 games played in both groups, a total of 333 yellow cards have been issued by Referees with 15 another red cards going to players.
Group A has the highest number of yellow cards – 183 while in Group B, 153 have been issued.
In expulsion, nine (6) players in Group A have seen red with nine (9) in Group B receiving the marching order.
Enyimba and Akwa United have been issued the highest number of yellow cards in Group A – 22 yellow cards. The Aba Elephants are tied with Nasarawa United at the top of red cards with two and are followed on yellow cards in second place by Plateau United and Gombe United with 20. Shooting Stars have accumulated the least yellow cards at 15 and no red cards.
In Group B, Abia Warriors have the highest yellow cards at 20 and are followed by Sunshine Stars at 19. Both clubs have two expulsions while Bayelsa United have the least yellow cards at 11 and no expulsions.
TEAM PERFORMANCES
Bendel Insurance shocked bookmakers on the opening day of the season when the newcomers stunned former Champions, Akwa United 2-0 in a game that was broadcast live on national television and the satellite platform, Supersport.
The Benin Arsenal as they are called haven't looked back and seem bent on proving that the opening day performance wasn't a fluke as they completed the first stanza unbeaten in Group A. They have sufficient firepower, scoring the highest number of goals, highest wins away from home and topping the table.
In Group B, Lobi Stars of Makurdi are leading though second placed Rivers United have an outstanding game that may alter the standings should they win.
RAISING QUALITY OF OFFICIATING
A major bane of the league from past experiences has been poor officiating that dent the field performances of clubs and their players. This has been traced to intimidation and financial inducement of match officials. It was a malaise the IMC identified and set out to tackle through regulation, enforcement and proactive administrative steps.
The jury may still not be out but opinions shared by stakeholders so far attest to improvements which are traceable to intentional steps of the IMC, particularly in the area of improved and prompt payment of indemnities to the officials. This was aimed at reducing the temptations to fall for overtures by clubs to swing games.
However, it has not been a hundred percent success as there are still pockets of observed mediocre performances by some officials and incidents of assault on them by unruly individuals. This blips have triggered the application of rules enforcement in conjunction with the Nigeria Football Federation (NFF) Referees Appointment Committee to deal with reported and proven cases of rules breaches.
Towards sustaining a high standard of officiating, the Referees Committee have summarily decided on reported cases of poor officiating, ordering the indefinite suspension of four (4) Referees, cautioned three (3) and placed them on assessment in subsequent games. Four (4) other Referees are facing Disciplinary Panel and have been delisted for future appointments pending outcome of the panel's decision.
Curbing Hooliganism through Rules Enforcement
In its bid to stamp out intimidation of match Officials through physical assaults, the IMC was very swift in dealing with a number of breaches of the Rules, handing out appropriate sanctions to culprits, including clubs and identified individuals.
A major decision underlining the weight IMC placed on ensuring security at match venues was the deduction of three points and three goals from Bayelsa United for proven assault on match Officials in the MatchDay 5 game against Doma United. The club also had heavy fines imposed on it and mandated to ensure the prosecution of the individual linked to the assault.
 Some other such decided incidents include the fine imposed on Gombe United for security breach in their MatchDay 4 fixture against Nasarawa United.
There was also a fine imposed on El-Kanemi Warriors for failure to provide adequate security in their match against Bendel Insurance and another fine on Niger Tornadoes for verbal assault of Referees on MatchDay 6. A Shooting Stars Official was banned for one year and the club fined for the officer's indecent conduct before their MatchDay 9 clash with Akwa United.
As the teams return for the concluding games of the season seeking a place in the six-team playoff to determine the Champions and continental tickets, there are high expectations of more live games on television, peaceful conduct at match venues and high octane fireworks on the pitch.
*Source: NPFL Mid-season Report