News
NUSA donates to Nigerian, South African mothers in hospital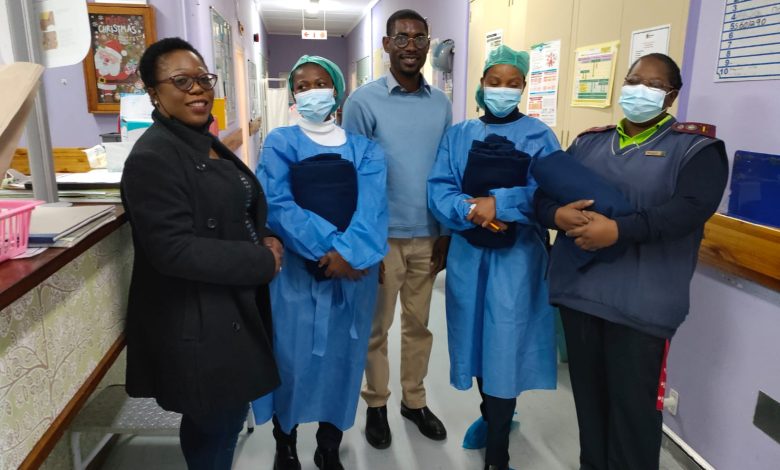 Photo: From left is Mrs Doris Solarin, Vice-President, NUSA and Collins Mgbo (middle), while others are staff of Edenvale Hospital in Johannesburg during NUSA's outreach to celebrate the 2022 Nelson Mandela and Women's Day in South Africa.
By Peter Ejiofor
Nigerians in South Africa under the aegis of Nigeria Union South Africa (NUSA), marked the 2022 Mandela and Women's Day with a humanitarian outing in Edenvale Hospital in Johannesburg. A statement from Johannesburg by the union said in Lagos on Friday that NUSA President, Mr Collins Mgbo and the Vice-President, Mrs Doris Solarin, distributed blankets to nursing Nigerian and South African mothers at the hospital on Wednesday.
The statement signed by Mgbo said the beneficiaries were elated and some staff of the healthcare centre hailed the gesture as unprecedented because no foreign organisation had donated to the pediatric and maternity ward.
Mgbo said the outreach was part of NUSA's agenda for social cohesion, and intended to create a platform suitable for healthy, peaceful and prosperous coexistence between Nigerians and South Africans in various communities under its programme, "Naija Cares''.
He said that NUSA expressed its gratitude to everyone who made the event successful.
It will be recalled that the United Nations (UN) General Assembly declared July 18 "Nelson Mandela International Day'' in November 2009 – in recognition of the former South African President's contribution to the culture of peace and freedom.
In its Resolution ARES/64/13 recognises Mandela's values and his dedication to the service of humanity in: conflict resolution; race relations; promotion and protection of human rights; reconciliation; gender equality and the rights of children and other vulnerable groups; the fight against poverty; the promotion of social justice.
The resolution acknowledges his contribution to the struggle for democracy internationally and the promotion of a culture of peace throughout the world.
Nelson Mandela devoted his life to the service of humanity as a human rights lawyer, a prisoner of conscience, an international peacemaker and the first democratically elected president of a free South Africa.