News
NUSA says strong cultural ties with South Africa will curb Xenophobia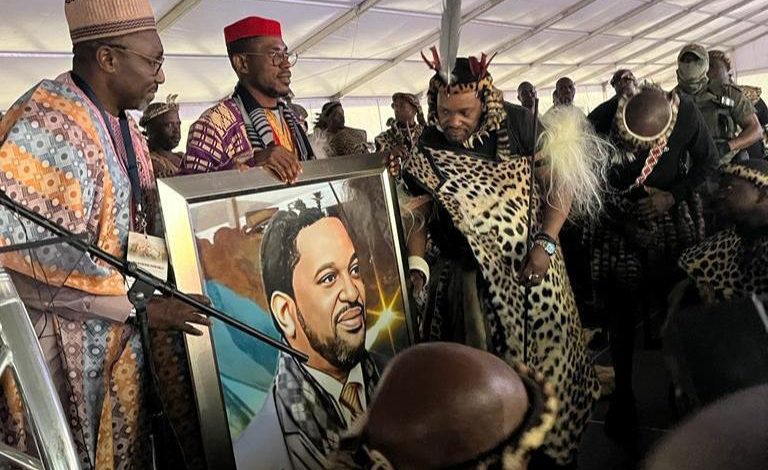 Photo: Mr Trust Owoyele, NUSA's Treasurer (left) and Mr Collins Mgbo, NUSA President (Centre), presenting gifts to the newly crowned Zulu king on Aug.20, 2022, KwaKhangelamankengane Royal Palace in Nongoma, KwaZulu-Natal Province.
By Peter Ejiofor
The Nigeria Union South Africa (NUSA) has lauded the growing cultural ties between Nigeria and South Africa, saying it will help to curb the incessant cases of Xenophobia and other crimes against non-nationals.
A statement by the union, emailed from Johannesburg on Thursday, said in Lagos that the NUSA President, Collins Mgbo, made the assertion when he led other officials to present gifts to the newly crowned Zulu traditional ruler, Misuzulu ka Zwelithini at his coronation on Aug. 14.
Mgbo, according to the statement, notes that the cultural relationship between both countries was already ensuring that rifts involving nationals of both Nigeria and South Africa were abating.
"One of the significance of the historical event is the fact that the seed which is sowed today in the form of a cow shall remain in the Palace and Kingdom forever to remind the good people of Zulu land of the footprints of Nigerians in South Africa and NUSA in particular, when the cow continues to give birth subsequently,'' he said.
He also said that the union's initiative and agenda for social cohesion had taken a strategic shape henceforth, and applauded the foremost traditional ruler for his warm reception and blessings in the palace.
Mgbo who led other members of NUSA executives, including Mrs Doris Solarin (Vice-President), Mr Trust Owoyele (Treasurer), Mr Peter Ananaba (Financial Secretary) to the event presented a cow and other gifts to the king.
Presenting the gifts, the NUSA president said that it was a historical event where the relationship between the kingdom, Nigerian Union South Africa and the Nigerian community in South Africa in general had been established.
The focal point of the event was inside the "Sacred Cattle Kraal'' at 11:48 a.m. where King Misuzulu ka Zwelithini went to invoke his ancestors before being announced to both the living and the dead as the new Zulu king.
Upon emergence, the king vowed to unite the Zulu nation as a new chapter began.
"This in essence, will lead to and improve our quest for social cohesion between Nigerians living in South Africa and the host community in South Africa,'' he said.
The NUSA executives who attended the ceremony joined thousands of well-wishers to witness the coronation of the newly crowned Zulu king, Misuzulu ka Zwelithini in the KwaKhangelamankengane Royal Palace in Nongoma, KwaZulu-Natal province on Aug. 20, 2022.
Also in attendance were diplomats, royalties, government officials and other dignitaries from around the world and they were entertained with chants and traditional arts and cultural dances from the warriors and maidens in the Zulu land.