News
NYCN commends PMB, Dare on National Youth Investment Fund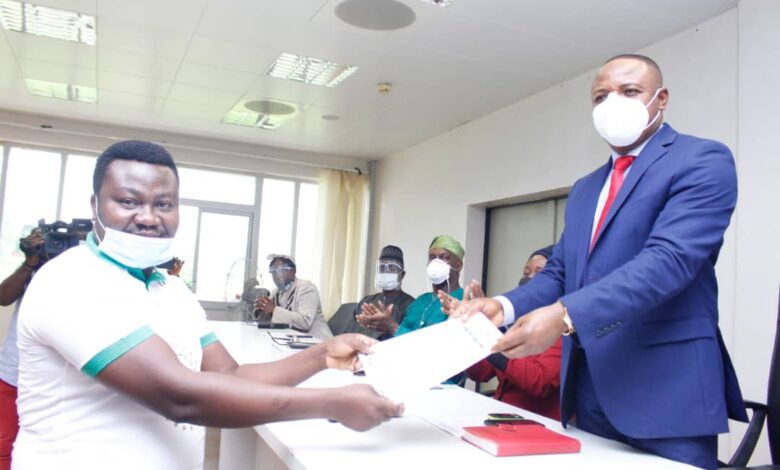 The National Youth Council of Nigeria (NYCN) led by its President, Amb. Sukubo Sara-Igbe Sukubo has commended President Muhammadu Buhari and Sports minister Sunday Dare for their foresight that has resulted in the  establishment of the N75bn National Youth Investment Fund.
The NYCN spoke on Monday at the Moshood Abiola Stadium, Abuja when it's executive paid a thank you visit to the Sports minister who was ably represented by the Permanent Secretary, Gabriel Aduda.
Aduda, while receiving the NYCN executives noted that the body has taken a bold and commendable step.
He stated that the Memo on the establishment of the fund was thoroughly debated  at the Federal Executive Council (FEC) where it enjoyed overwhelming support that saw President Buhari giving his seal of approval. He stressed that the gesture is to enable the teeming population of Nigerian youth to be economically motivated for sustainability.  
Dare added that it is important to invest in the youth and put in place the right template and environment that would see them fly with their ideas. He disclosed that the N75bn fund would come in three trenches between now and 2023, even as he added that Mr President has given directives to the Minister of Finance, Budget and National Planning alongside the Central Bank Governor to source for the money.
According to the Minister, the Ministry through the Technical/Steering Committees that shall be put in place,which will include the youths, shall be  working on modalities to enable Nigerian youth have access to the fund and pay back within a short period with not more than 1 digit interest rate.
He implored the youth to come up with innovative ideas that could lead to wealth/job creation and which can as well achieve any of the 9 cardinal goals of the present administration.
Amb. Sukubo Sara-Igbe Sukubo, in his response, expressed gratitude to the Honourable Minster for paying good attention to the youth department of his ministry.
Sukubo noted that Nigerian youth are set for a breath of fresh air, thanks to the steps being taken by Dare.
"To all my fellow Nigerian youth, it is a new dawn, the sound of hope echoes in the air. The long awaited dream has become a reality and I can testify that there is a song of joy on our lips," he said.
In his vote of thanks, the Hon. Commissioner for Pan Africa Union in Nigeria, Niyi Oladele, thanked President Buhari for the economic empowerment with the establishment of the National Youth Investment Fund.
He however made a call to the President to kindly direct all youth related activities and programmes scattered in other Ministries, Departments and Agencies of government to be redeployed and warehoused in the Ministry of Youth and Sports Development for proper coordination.