Sports
Obaje explains benefits of Lagos women run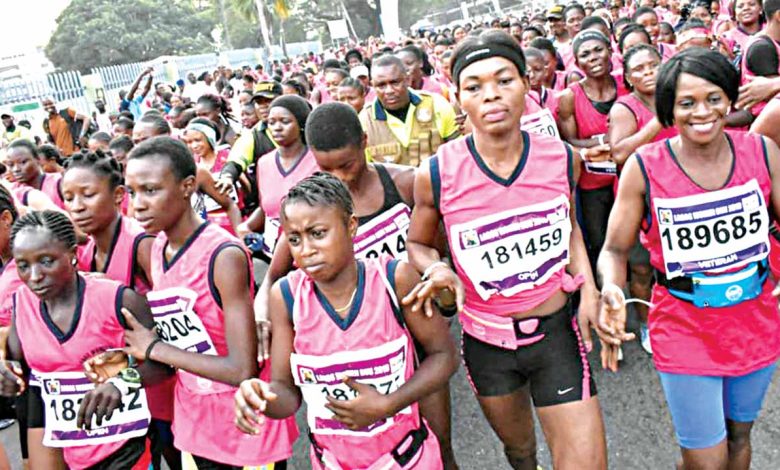 By Ifeanyi Eduzor
As women from all parts of the country prepare to participate in the 8th edition of the annual race slated for Saturday November 11, Chief Marketing Officer of the race Ada Obaje says that the marathon is not all about running but a platform to give women sense of belonging and enable them share ideas on issues affecting womanhood.
She told newstap.com.ng yesterday that the successes achieved by the race cannot be quantified as it has witnessed an increase from about 500 runners in the maiden edition to over 30,000 women who have taken part in the race just as she further explained that the race seeks to bring women together under a collective cover.
" Lagos women run is a metaphor for issues affecting women in our society. You'll realize that there is so much segmentation because women are not operating under one voice.
"We have many women organisations seeking to cater for a particular set of women but Lagos women run seek to neutralize that barrier.
"So, the race is a platform where women speak with one voice on all the issues affecting them; whether it's health issues, financial incapacitation, non inclusion in critical decision making process, gender based violence, poverty and all other problems that affects the society which takes heavier effect on women", she stated.
Obaje was emphatic that the 10 km race is just the message, insisting that anybody can work around noting that the idea is for women to come together in one accord and speak with one voice to make the society realize that women are here with ambition.
According to her, in order to enable women thrive, the organisers ensured there is an empowerment programme and expo for small women businesses where participants learn critical skills and getting the necessary support for their businesses.
" Here at Lagos women run, we don't just accord respect to celebrity runners, we recognizes the first 20 runners who get different prize monies with the overall winner going home with N1.5 million.
" We should realize that's not a competition or about showing skills; but of course there will be winners but essentially, the message is collectiveness and that's why empowerment is key to what we do", she stressed.
Obaje further explained that there will be free fitness check for all the runners because the idea of the race is to support growing fitness culture.
" There is no denying the fact that most times, women do not have time to take care of themselves. As care givers, they spend most of their time taking care of other members of the family.
"So, this is the starting point of fitness so that the symmetry live style that seems to steer up non communicable diseases like cancer, diabetes and hypertension can be checked because the more we check that symmetry life style, the healthier the women are; and the healthier the women are, the healthier society is and the healthier the society is, we have a more productive society.
On what to expect on Saturday, she promised that the race will come with a lot of fun and goodies.