News
Oguta is critical to me, Uzodinma tells Nwapa
...Nwapa pledges Oguta's support to Governor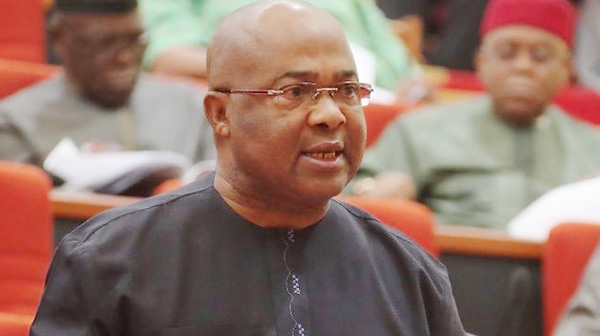 Governor Hope Uzodimma of Imo State has said that Oguta is critical to him as a person and that the government under his watch will do the needful to ensure that the area is given a pride of place in Imo.
The governor spoke on a day former Executive Secretary of Nigerian Content Development and Management Board (NCDMB), Ernest Nwapa, pledged the support of his Oguta community to Governor Uzodimma, and lauded the governor for choosing many of his people to work in his administration.
During a visit to Oguta on inspection of some projects, Governor Uzodimma said: "I have come and I have seen. Fortunately, the road is one of those awarded by the past administration. What I will do is to fast track whatever process. If the contractor is reasonable we deal with the excesses and allow him to continue.
"I am part and parcel of Oguta. I was here during my campaign. I will still be here. I will continue to visit to seek advice from time to time. We need everything we have to develop the state. I have engaged and will continue to engage people as we make progress.
"The national government is APC. The Imo State government is also APC. The elephant cannot be hidden. I urge you to continue to support the APC. We will do well by the grace of God."
The governor said the Imo State University cannot be complete without Oguta's critical role in its formation, and thanked Nwapa for availing him the opportunity to visit the area to see the state of road infrastructure and be part of the discussion that will make Crystal Lake Resort managed by Nwapa the place to be.
Earlier, Nwapa told the governor that Oguta is part of Imo and that the people want him to succeed.
He thanked the governor for appointing Oguta sons and daughters into his government and specifically appreciated Governor Uzodimma for considering him worthy to serve on the board of the Imo State University.
"I want to thank you for considering me worthy to serve on the Board of IMSU. I have accepted the challenge," Nwapa said.
Nwapa used the opportunity of the visit to plead with the governor to look into the problem of road infrastructure and lack of electricity in Oguta. He also solicited Governor Uzodimma's intervention in the area of tourism and in the area of oil and gas development.