Sports
Okonkwo: I'm proud of Chikelue Iloenyosi, throws weight behind 042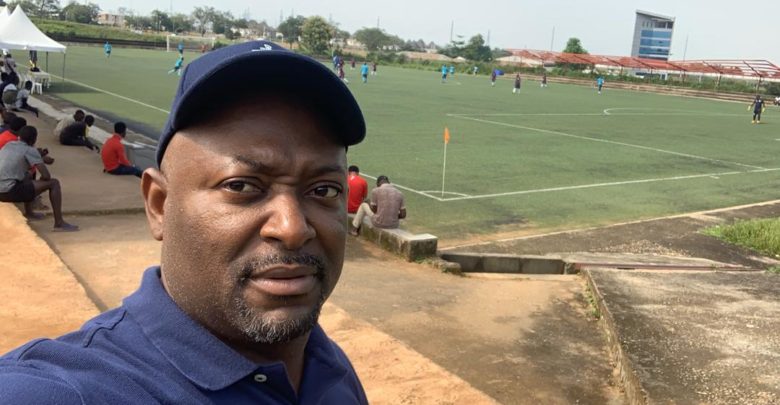 Former Enugu Rangers captain and Green Eagles forward, Charles "Hurricane" Okonkwo has thrown his weight behind the 042 Soccer Legends Association midwifed recently by "Abagana boy", Chikelue Iloenyosi.
Okonkwo who lives in London in a piece made available to newstap.com.ng recalled how he came in contact with Chikelue way back in January 1989 while lacing boots for Nigeria. He stated why he is backing Chikelue's dream project, even as he described him as one man who has one of the most likeable characters you can get in a humanbeing.
Enjoy Charles Okonkwo's easy on Chikelue, the one admirers call De General:
One evening in January 1989, I was warming up on the touchline to replace another fellow Eagles player. I noticed a ball boy standing next to me on the touchline as I was doing some stretches. He was smiling at me. I smiled back. And then he said something to me and I quote…"I am from Abagana, and you are my uncle." I felt a sudden affinity straight away with this young ball boy. And I hadn't the time to get emotional as I was getting ready to do a job; to play my part in an on going match, to replace Samuel Okwaraji. I had only thirty five minutes to make an impact. The match was between Nigeria and Gabon.
After the match, this young ball boy was waiting for me. He hopped into the Eagles bus with me and other Green Eagles players back to the Nike Lake hotel. And that was the beginning of the long running relationship that has lasted to this day.
The story of myself and this young man cannot be told using this medium. Lets just concentrate on his dream project.
This young ball boy, whose dream, as was the dream of every single ball boy on every football touchline spanning the width and breathe of stadiums the world over, was to play football and represent his country, went ahead and fulfilled those dreams. They call him the General. He has one of the most likeable characters you can get in a humanbeing. Very kind to friends and ex team mates and ex footballers to a fault…humble as a pie. And I won't be saying this if it's not the truth and verifiable.
Over the years, with the continuous deterioration of the lives of ex Nigerian footballers, and people continuously asking we ex footballers what we are doing on our part to ameliorate the suffering of ex comrades, Chikelue Iloenyosi, with the help of others, have decided to do something about that.
Championed by Chikelue, the 042 FOOTBALL LEGENDS ASSOCIATION was born.
Hear him, and the reasons why he has decided to take the bull by its horns and do something; "my Decision to form 042 Football Legends Association was necessitated because of my passion for Football and Helping Football Legends who are not lucky enough to further there Careers, or are in dire need of all sorts of help. 
I find myself as the right person pioneering this Organization because of the relationship I have with Hundreds of ex-footballers who are now the Legends we are celebrating and even the present generation of Footballers.
With the kind of support I'm getting from the National Association of Nigerian Footballers (NANPF)  I believe we can touch the life's of so many Football Legends and put a smile on there faces once again.
VISION OF 042:
To come together as one United group and galvanize our collective resources towards addressing those common challenges and needs that are petinent to the general well being of our ex-football stars, to the lives of these great men and significant others who in their prime, gave everything  to the beautiful game.
MISSION OF 042:
To Restore hope, through a strategic support system, to the lives of these great men and significant others who, in their prime gave their hearts and souls to the beautiful game."
Like he said to me recently; "there is always a time, place and opportunity to do something…especially for ex comrades. If not now, then when?"
042 LEGENDS ASSOCIATION is a non-profit organisation. Although it bears the telephone code of Enugu, its operations will not be exclusive to Enugu. Its tentacles will be extended to all the nooks and crannies of Nigeria.
Let this be among one of the catalysts. The first domino. We may not be able to get to everyone, but I am sure that we will get to some people for now. The ultimate goal, God willing, is to get to everyone eventually. We shan't look back, if not for anything else, but for our own sakes. I won't be getting involved if I wasn't cocksure that we, with the help of all and sundry, headed by this great man Chikelue Iloenyosi, be able to get to those downtrodden ex players, who out of no fault of some of them, ended up with nothing.
We have to be seen to be doing something. For if the rest of the country has abandoned us, should we too abandon ourselves?
The answer to that question is in the question itself.
We cannot fail. We cannot afford to fail. 
Anyi ada eti mmanwu ana 'kwaka.