Sports
Olympic Games: Don't smuggle Russian, Belarusian athletes into Paris 2024, EU warns IOC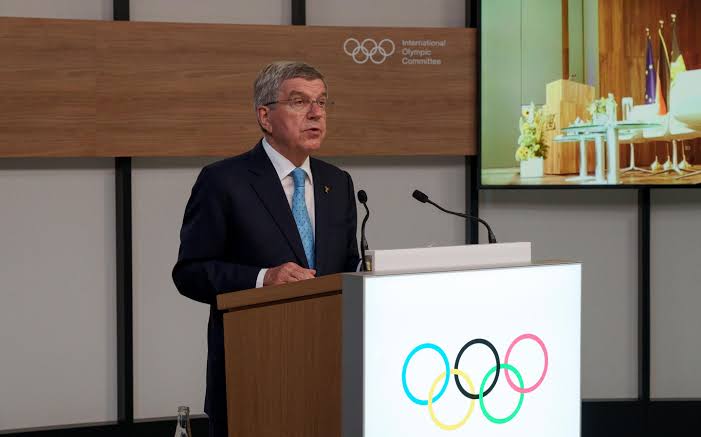 By George Aluo, with agency reports
The European Union (EU) has warned world sports governing body, International Olympic Committee (IOC) not to allow Russian and Belarusian athletes to compete at the Paris 2024 Olympic Games.
The EU gave the warning against the backdrop of the moves being made by IOC to allow Russian and Belarusian athletes to compete as neutrals at the games.
According to a report by insidethegames, the European Union took the stand via a resolution that enjoyed overwhelming support.
According to the report, the EU in her resolution condemned the International Olympic Committee's (IOC) move to explore ways for Russian and Belarusian athletes to compete at next year's Olympic and Paralympic Games in Paris. 
The motion was adopted with 444 votes in favour, 26 against and 37 abstentions.
It stated that allowing competitors from the two countries to participate, as neutrals or not, "runs counter to those countries' multifaceted isolation and will be used by both regimes for propaganda purposes."
The resolution marks the upcoming one year anniversary of the war, which started with the invasion by Russia on February 24, and also urges its 27 member nations to pressure the IOC into reversing its decision which has been labelled as "an embarrassment to the international world of sport."
The IOC has argued that it would be discriminatory to exclude Russia and Belarus, despite recommending International Federations ban the pair last February when the invasion first began.
Ukrainian Foreign Minister Dmytro Kuleba has launched renewed criticism at the IOC and its President Thomas Bach for its change of stance.
"The hypocrisy of the IOC President and the Committee is simply pathetic," Kuleba said.
"A country that commits aggression which has been condemned by the vast majority of the UN General Assembly loses the right to compete at the Olympic Games.
"This also applies to all its athletes."
Ukraine is considering a boycott of Paris 2024 in response to the IOC's shift while also trying to mobilise support from other nations.
Bach opposed this in a letter he wrote to Ukrainian Sports Minister and National Olympic Committee President Vadym Guttsait.
The German stressed that a boycott of the Games would be a violation of the Olympic Charter.
"This is one of several options," Kuleba said.
"If Russian and Belarusian athletes were to come to Paris instead of Ukrainian athletes, this would be against all moral, sporting and political standards.
"Most of the Russian athletes who won medals at the last Olympic Games represented sports clubs of the Russian army."