Sports
ONIGBINDE PRAISES 'THUNDER BALOGUN'S WIFE AS FAMILY MARKS 25TH ANNIVERSARY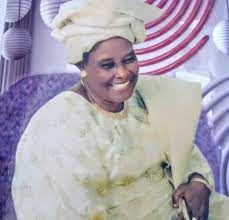 The former Chief of the Nigeria senior national soccer team, the Super Eagles, Chief Adegboye Onigbinde, has praised the late wife of Nigeria's most celebrated soccer player in the history of football in the country, Teslim 'Thunder' Balogun, Alhaja Mulikat Balogun, as the family gets together in their home in Lagos, to mark her 25th year anniversary today May 25th 2023.
Onigbinde, said in Ibadan that it was the late Alhaja Mulikat that motivated her late husband, to become Nigeria's greatest soccer player and indeed a hero figure that he became nationwide.
Onigbinde, who was Nigeria's first football coach to handle a Nigerian senior national soccer team to the FIFA World Cup finals at Japan/ Korea 2002.
The former Shooting Stars Sports of Ibadan Chief coach, added that, in some of the matches he watched 'Thunder' Balogun played in his active international days, his wife Mulikat, infact took it as a ritual to encourage her husband to score winning goals in crucial matches, before the kick off of such games.
This enabled 'Thunder' Balogun spread his name nationally and even to the diaspora.
Thurder put extra efforts that distinguished him in all the games he played before his retirement from active football.
Onigbinde, said, its on record that, it was Madam Mulikat who ensured he returned to Nigeria to continue his football career when he first rejected the plea of then Premier of Western Nigeria, Chief Obafemi Awolowo, on recall to help the West Rovers Fc win the Challenge Cup, the biggest football competition in the country at the time.
The former FIFA and CAF Instructor dislosed that, this was a period 'Thunder' Balogun was
midway into his career in the English Soccer League, playing for Queens Park Rangers Football Club in 1958.
On his return, 'Thunder' helped West Rovers won the title in 1958 for the first time in history. His football excellence and artistry made the victory possible.
Chief Adegboye Onigbinde stressed that, looking into the future, Alhaja Mulikat was the one who advised her husband on to form a number of youth clubs in Lagos for the development of football in Nigeria, this formed the background of the foundation of new football teams in Nigeria.