Sports
Oyo State's Mubarak Ganiyu wins Alhaji Adewale Isa U-16 junior tennis open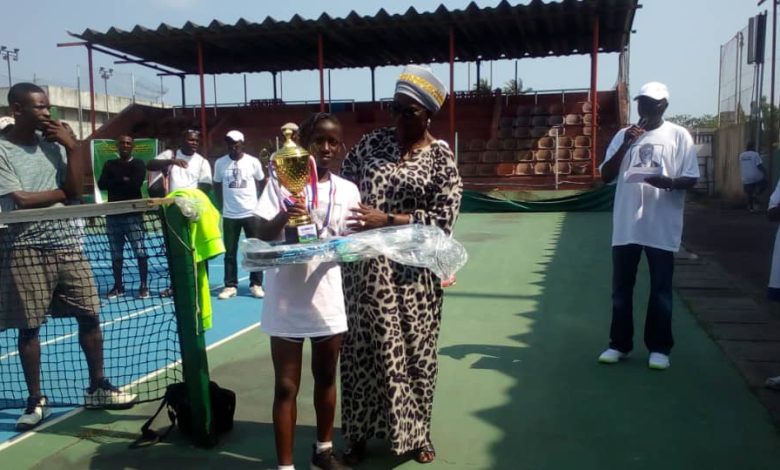 By Ifeanyi Eduzor
The 3rd edition of the annual Alhaji Adewale Isa national junior open tennis championship ended Saturday, August, 6, 2022 with Mubarak Ganiyu an SS 11 student of Allahu-Ii-Ayu Model College, Ibadan, Oyo State emerging champion in the U-16 boy's category after defeating Lawal Nubari by two streght sets of 6-3, 6-2.
The week long tournament which took place at the tennis court of the National Stadium, Surulere, Lagos saw Mubarak who overcame a stomach pain scare using a combination of experience and determination to beat his opponent who caused an upset in the tournament by defeating the number one seed in the semi- finals.
In the female category Bright Emmanuel defeated Eunice Iorlumun by 6-1, 6-3 while in the girl's U-14 game, Kadiya Mohammed recorded a 4-0, 4-1 victory over Mary Iorlumun with Bello Yauzar emerging champions in the boy's category by beating Onyekachi Oguejiofor 7-6, 0-6, 10-7.
Also in the boy's U-12, Amasiani Chukwubuikem defeated Oluwaseun Ogunsakin by two straight sets of 4-2, 4-1 while Lorelay Hozendoff beat Temilola Samuel 4-0, 4-2 in the girls category.
Speaking shortly after the finals, Mubarak who was highly excited by the victory, stated that he's looking forward to becoming the No 1 junior seed with his recent performance just as he explained that he hope to be in Ghana in a fortnight to represent the country in an ITF junior ranking tournament.
"I'm highly excited to win against a very strong opponent who created an upset by beating the number one seed in the semi- finals and I hope that with my performance, I will be considered for the number one seed position in the next ranking by the NTF.
" You realized that during the finals, I developed some pains in my stomach and at a stage wanted to retire but I kept on pushing and my determination and experience saw me through.
" Right now, I will go back to training because I hope to be in Ghana next two weeks to participate in an ITF junior ranking championship. "It's a four weeks tournament that will attract players from Africa, Europe and America but I will be there for two weeks and hope to take the experience I garnered here to that tournament", he stressed.
Meanwhile, daughter of late Alhaji Adewale Isa, Mrs. Isa Yinka Adigun has expressed happiness at the successful hosting of the championship for the first time in Lagos even as she assured that the family of the late coach will continue to sustain the tournament in memory of their late father for the numerous job he did in developing junior tennis players in the country.
" We the children of Alhaji Isa are happy with the large turnout of players and we shall sustain it in memory of the legacy left behind by our late father in tennis development in the country.
" You know that the first two editions in Kaduna was like a regional championship but by moving it to Lagos, we made it an open event which was why an unseeded player had the opportunity of creating an upset by beating the number one seed in the semi- finals and am happy with what we've achieved with the tournament", she explained. In the same vein, son of late Alhaji Adewale Isa, Nureeden said that he will discuss with some of his friends on the possibility of providing more equipment to the players and creating platform for some of them to compete at the international level.
"It' a great joy that the tournament achieved its objective. When we where still at the planning stage, I spoke with the NTF President to inquire from him whether we are to organize an ITF junior or do what we did and he advised that if we want to achieve our aim of developing tennis at the grassroots, we should organize a national junior open and I' m happy that we achieved our objectives and I believe that wherever our father is now, he will be happy with what we did.
"My immediate plan is to reach out to some of my friends and those players discovered by our late father to see how we can donate more equipment to some of these players, create platform for them to play at the international stage and probably help them combine sports with education which is key to any athlete", he concluded.
The week long championship attracted 171 players and was put together by the children of late Alhaji Adewale Isa, a renowned coach who during his life time discovered and nurtured many junior tennis players to stardom.