News
Plot to impose unqualified don as IMSU VC uncovered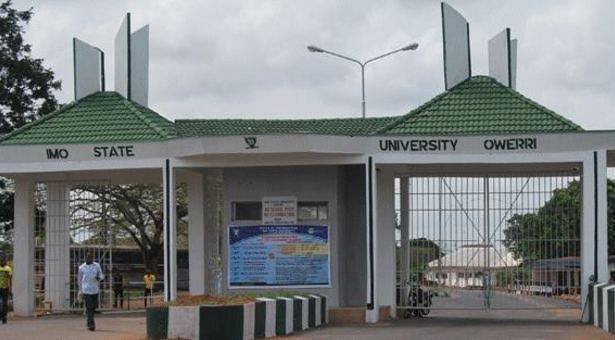 From Ndy Nwaneri
Underground arrangements to impose one Prof. Uchefula Ugonna Chukwumaeze as the substantive Vice Chancellor of Imo State University(IMSU), Owerri on grounds of nepotism rather than merit has been exposed.
A source at the University who preferred anonymity revealed that the Professor of Law and Senior Advocate of Nigeria, SAN, is not qualified to be so appointed in view of his failure to meet the 10years minimum age for qualification to be appointed a vice Chancellor of IMSU.
Prof. Chukwumaeze who hails from Orlu senatorial zone of the state and Governor Hope Uzodimma's kinsman, is said to have had his name corruptly smuggled into the list of best three shortlisted for the governor to choose after a rigorous interview/screening.
Our checks reveal that Prof. Chukwumaeze is about being imposed as the best among the three by the governor apparently acting on the influence of a political cabal.
A reliable source with the government circle hinted that the choice of the SAN who is only a little above Nine years at the rank of a Professor above his other senior contenders who have advantageous edge over him; simply because he comes from Governor's political zone is presently causing serious ripples within the academic ranks in the university.
It was reliably gleaned that Prof. Chukwumaeze did not come first in interview conducted by Interview Panel For VC chaired by Engr. Ernest C Nwapa, the current acting VC with Ven. Prof Chinedu Nebo, Chief Anthony Ezenna, Prof Peter U Okorie and Prof Martin Onuh as members.
The source who disclosed that the shortlisting of Chukwumaeze's name came as a rude shock to many watchers pointed out that the scheming to impose him has continued gained intensity with the governor about to announce the chosen VC this week.
He stated that the favoured professor is not qualified based on the provision of the Imo State University Law No. 5 of 2004 which clearly states that a candidate for the post of Vice Chancellor shall be at the rank of a professor for a minimum of 10years.
He also noted that Chukwumaeze has the least in terms of academic publications to his credit when compared with his other contenders insisting that appointing him would amount to brazen disregard for due process and diligence in utter violation of the IMSU Law.
Meanwhile, our reporter gathered that the university community is currently tensed up as they await the governor's pronouncement on the issue just as the imposition of Prof. Chukwumaeze may be challenged by several legitimate mean by aggrieved parties.