News
Residents of Seagate Estate decries demolition of properties by Lagos State Govt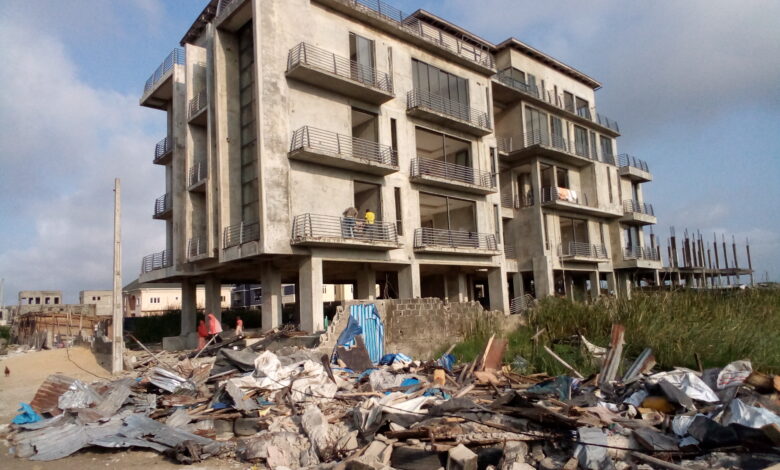 By Akeem Busari
Thousands of residents of Seagate Estate, Lekki, have been rendered homeless with their properties worth several billion naira demolished by officials of the Physical Planning department on the orders of Lagos State government.
The demolition which took place Wednesday, August 19, 2020, saw members of the estate carrying placards in peaceful protests expressing their anger, disappointment and frustration against the demolition exercise. 
Speaking with newsmen during the protest, a property owner Mrs. Jennifer Otiko, lamented that the unilateral decision by the state government to demolish the houses is unfortunate, adding that it was unfair and an injustice to the helpless residents in the estate.
On his part, solicitor to the residents, Barrister Dotun Hassan, stated that the demolition exercise being carried out is against the rights of the people to live and exercise their rights as human beings and citizens of Nigeria.
"This action by the government of Babajide Sanwo- Olu is injustice and a way of further unleashing more pains and anguish on the people. 
"The owners of these properties have all the necessary documents on the properties destroyed. I want all Lagosians and Nigerians to understand that the alleged plans to carve out roads linking the Palm Springs Estate axis is illegal and a diversion from the original construction roadmap. 
"The newly proposed plan to rechannel the roads construction in the axis is aimed at saving a major property on the road belonging to one of the associates of Gov. Sanwo-Olu from being destroyed as it had earlier been earmarked by the state government," Barr. Hassan explained.
"Lagos State government did not serve court orders on the properties, neither were the residents informed of the plans. It is shameful and wicked for you to just wake up and decide to destroy other people's hard earned properties in order to satisfy your associates," he added.