Sports
Revive grassroot sports competitions, FA advises Imo Sports Commissioner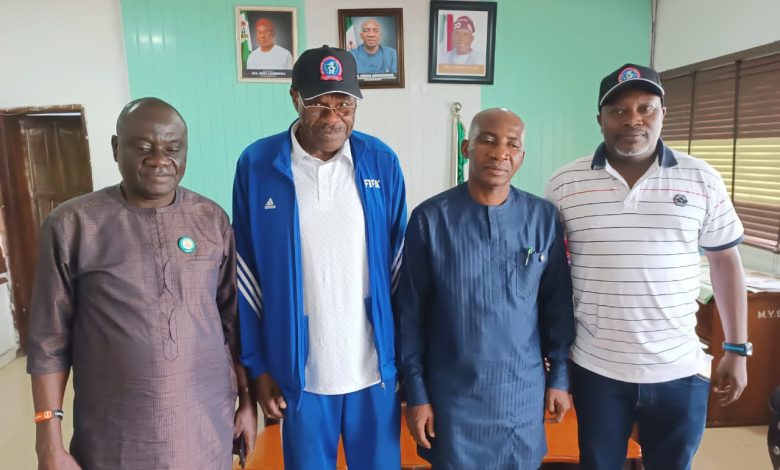 Photo :From left is Chief Sylvester, Mazi Amanze Uchegbulam, Hon. Emeka Okoronkwo and Barr. Ifeanyi Dike, the Imo State FA chairman .
By Everest Ezihe, Owerri
As part of his vision for sports development in Imo State, especially football, Barr. Ifeanyi Dike,the Chairman of Imo State Football Association has advised the State Commissioner for Youth and Sports, Hon. Emeka Okoronkwo on the need for the State government to revive grassroot sports competitions as a strategic means to foster unity, discovery of talents and creation of employment opportunities.
Dike popularly known as Fela, gave the patriotic advise when he and his leadership team recently paid a courtesy cum solidarity visit on the Commissioner in his office at the State Secretariat along Port Harcourt Road,Owerri.
He passionately appealed to the Commissioner on the need to hasten actions so as to initiate processes to restore the Imo Governor's Cup, the Inter School football tournament, Principal and Headmaster's football cup tournaments; saying in the past, they were critical platforms for the discovery of talents for Heartland football club.
According to him, "in recent past, several Heartland players were discovered via such football tournaments who went on to play for other clubs in Nigeria and beyond.
"Several Heartland players were discovered through the Governor's Cup and Inter-school tournaments while as secondary school students and undergraduates, who went on to play for other clubs in Nigeria and beyond. I want to appeal to you to look for a means to revive these tournaments.
"I want to assure you that these tournaments will help to unite our people because as you know, only football unites Nigerians irrespective of our cultural, religious, and ethnic differences. I can tell you for free that these are cheap avenues for football managers to discover fresh talents and export from Imo", Dike assured.
The youthful FA chairman also called for collaborative partnership between the Association, the Sports Ministry, and government even as he canvassed for a bus to convey referees especially during Premier league matches.
Responding, the Sports Commissioner, Hon Emeka Okoronkwo commended the FA Board Executives for the familiarisation visit even as he congratulated them on their credible election that brought them on board.
Okoronkwo thanked the board members for offering him, what he described as soft landing when he resumed as Commissioner adding that they assisted to ensure the recruitment of Heartland players was on merit.
He thanked the immediate past Chairman, Mazi Amanze Uchegbulam for his selfless service to the State and country, adding that the former CAF official still has a lot to offer.
The Commissioner pledged his readiness to work towards the promotion of Sports, youths, and winning laurels for the state.
Okoronkwo described Dike as a gentleman adding that with him, the Imo FA will soar.
Immediate past FA Chairman, Uchegbulam who was part of the visit congratulated Okoronkwo and charged him to partner with the Association.
Other members who were in attendance include the FA's Vice chairman, Chief Sylvester Obasi; Chief Charles Nnadi; Chief Sunny Ndubuisi Ekeocha, Angela Nkwo-Akpolu, and Mr Geoffrey Ndudi the Secretary of the FA.