Politics
Saturday's poll: Jonathan Cautions Against Do-or-Die Politics, Pays Condolence Visit To Bayelsa Governor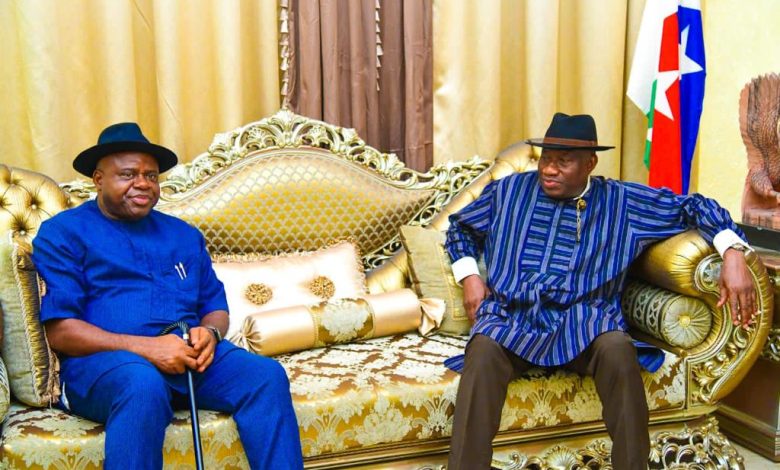 Former President Goodluck Jonathan has admonished politicians against do-or-die politics ahead of the governorship and House of Assembly elections on Saturday.
The former Nigerian President gave the admonition yesterday at Sampou community in Kolokuma/Opokuma Local Government Area of Bayelsa State shortly after paying a condolence visit to Governor Douye Diri over the demise of his father, Pa Abraham Diri.
Dr. Jonathan stressed that politics should be about service and not about self, urging politicians to wait for God's time to get into leadership positions.
He said in a democracy, the people play a critical role and wondered why those who aspire to lead want to force themselves on the people.
He also advised people of the state to conduct themselves in a peaceful manner during the House of Assembly elections.
Speaking on the late Pa Diri, Jonathan said the death of a parent was painful but urged the family of the departed to take solace in the worthy legacies he left.
The former president noted that the fact that Pa Diri produced a governor meant he inculcated good virtues in his children and prayed God to give the Diri family the fortitude to bear the loss.
He said: "Leadership is not by force. It is about serving the people. So, if you want to lead the people, you cannot kill them before you lead them.
"In Bayelsa, the challenges will be minimal because we do not have governorship election on Saturday. But I urge our people to conduct themselves well."
He further stated: "When you go for condolence visit, sometimes you lack words. We are lucky that our father lived for 88 years but that is not the most important. What you will be remembered for is what matters. From the messages so far, it is clear he lived a worthy life.
"He had good qualities that probably helped him produce a governor. We have come to join the governor and members of his family and community to console you and the rest of the family."
Responding, the Bayelsa Governor, Senator Douye Diri, described the visit of the former president as special, saying his family and community were strengthened by his presence.
He traced his relationship with Dr. Jonathan to when he was Bayelsa deputy governor, saying he became very close to him until he became governor and appointed him Commissioner in his administration.
Diri said Jonathan's rise to the position of president was divine, saying the people of the state were proud of him and his achievements in politics.
The governor said he was overwhelmed with joy by the former president's show of love, who he said was among the first to call him and even sent his wife to visit before coming in person.
The state's helmsman stressed the need for the people of Bayelsa to exhibit same brotherly love and unity in order to move the state forward.