Sports
Scrabble Grand slam : Olaribigbe takes slim lead, as Jighere stumbles on Day 2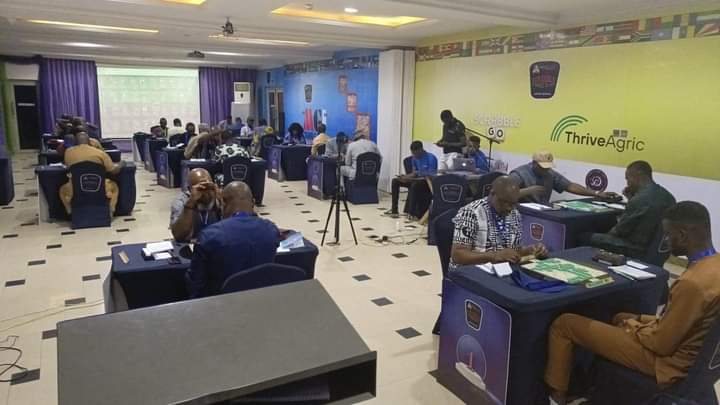 Hakeem Olaribigbe will be having a cautious celebration by basking delicately in his new role at the top as he leads the MGI Grand Slam log on Day 2 with half a point to set up an intriguing scenario ahead of Day 3 where two finalists will emerge from the King of the Hill (KOTH) with just five rounds of games left to play for.
After 20 rounds of exciting exchanges at one of the most competitive scrabble championship in the world, situations are still delicately poised for an intriguing finale on the last day.
Olaribigbe, fresh from winning the top scrabble title at the Lagos State Head of Service Games last week, built on his first day performance of 8 wins and two defeats with 7 wins and 3 losses on day 2 to push his total to a record of 15 wins and 5 loses.
He however, leads second placed Timilehin Doko who defeated him in the last round of the day on table 1 with half a point.
Doko quickly climbed close to him with 14½ wins to create an interesting scenario ahead of the final today ( Sunday)
Both players will hit off again on Table 1 when hostilities resumes today.
Moving into the third was former African champion, Nsikak Etim who followed closely with 14 wins from 20 games while Jimoh Abdulmumin occupied the fourth with 12 wins as he dropped 8 games along the way but, was able to garner the highest cumulative points of +711 ahead of four other players; Wellington Jighere (+682) who was deposed as Day 1 champion, Dennis Ikekeregor (+452), John Aiyedun (+273) and Peter Moses (+77).
Sunday Oshodi and Okeimute Tega completed the top ten where sharing is guaranteed.
Only the top two will qualify for the final where the best of five games will produce the winner of the one million naira cash prize and the trophy.
Scrabble enthusiasts will be able to follow proceedings through the twitch.tv platform for all the moves on Table 1 with American Will Anderson as the commentator starting from 9am.
Jighere won the inaugural edition in Lagos after he defeated Opeyemi Oloro in the final.