Sports
Scrabble: Organisers name Adedeji Khaleel tournament director for Egbin National Open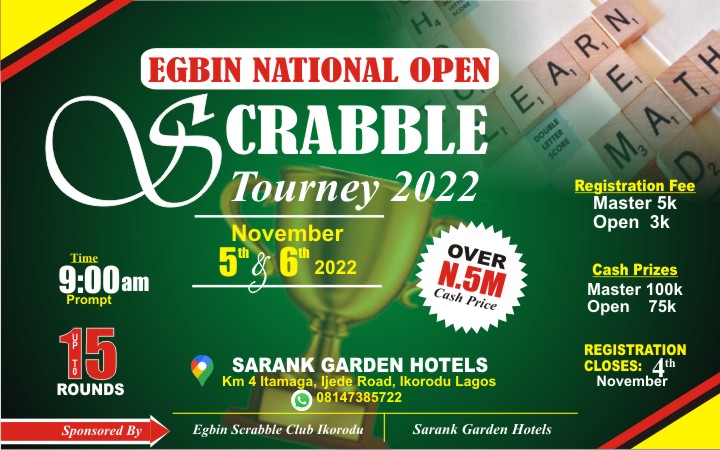 By Ifeanyi Eduzor
The organizers of the Egbin National Open Scrabble Championship which is making a come back into the Scrabble Circuit has named Adedeji Khaleel affectionately called 'Dynamite' as the tournament director.
A former Technical Director and the signature behind the return of Egbin National Open Scrabble, Larry Ojoko made this public on Monday in a chat with newstap.con
Fresh from the 14th African Scrabble Championship, Adedeji Khaleel who finished outside the podium will bring his wealth of experience to bear in directing the two day event.
Dynamite was part of the hands used to make the maiden edition of the West Africa Scrabble Championship a huge success and he also made the fourth edition of the Dynamite National Open won by Akeem Adedukun, one to remember.
Egbin in Lagos State is set to host a national Scrabble Championship after years of inactivity.
He explained that, two categories, Masters and the Opens will be competed for at the two day competition which will be a fifteen round of games event.
Players wishing to compete in the Masters event must have at least 1300 NSF rating points and are expected to pay the sum of Five Thousand Naira (N5,000) as registration fee while players below the 1300 NSF rating points will fight for honours in the Opens category that attracts Three Thousand Naira (3,000) as registration fee.
We understand that the Organizers, Egbin Scrabble Club, Ikorodu and Sarank Garden Hotels will not entertain late registration or registration at the venue of the event. Midnight of the 4th of November is the deadline for registration and players are to enter for the event with the same name format as it appears on the Nigeria Scrabble Federation (NSF) rating list.
The Egbin National Open Scrabble Championship is open to players not rated too and it's an NSF certified and rated event.
Over half a million naira has been set aside as prize money for the two day competition which starts 9am on the 5th and ends on the 6th of November at the Sarank Garden Hotels Kilometer 4 Itamaga, Ijede Road in Ikorodu.
The winner of the Masters event gets a hundred thousand naira (100,000) with the winner of the Opens to pocket seventy five thousand naira (N75,000).