Sports
Scrabble: Winifred Awosika AYSC Trophy Tour lands in the pearl of Africa, Uganda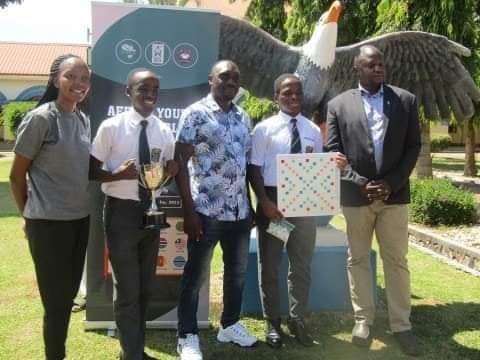 By Maxwell Kumoye
The Dr. Mrs. Winifred Awosika AYSC Trophy Tour which started in Accra the Ghanaian capital on the first of May, 2023 has touched down at the Entebbe International Airport, Kampala, Uganda.
The Pan African Scrabble Association (PANASA) Trophy Tour delegation arrived the Pearl of Africa, about 9am local time and was welcomed by the Scrabble Uganda family and they proceeded to St Mary's College Kisubi.
The PANASA team led by dynamic President, Adekoyejo Adegbesan and trophy will be received at the Uganda National Council for Sports (NCS) headquarters by the State Minister for Sports, Peter Ogwang and other top national sports officials.
On Friday 26th May, the Team and the Trophy will tour 3 schools in Gulu starting from 2pm. The schools are Gulu Army Secondary School, Over Champion Jesuit College and Credo Primary School.
Other Schools that the Dr. Mrs. Winifred Awosika AYSC Trophy Tour will visit are, Saint John Paul II College, Chrysalis SS, Niles Progressive SS, Mother Lydia Nursery and Primary School, Emmanuel Primary School Laroo, Manuel Junior Primary School and it will also make a stopover at Namilan-go College and Saint Catherine Junior School in the central region of Uganda.
Two tournaments will be staged as part of the Trophy Tour. The first being the Uganda National Championship (Division A) that event has top scrabble players from Kenya in attendance and the second is the youth Championship to herald the Trophy Tour and it's also the AYSC qualifiers. Both events will take place simultaneously with the Uganda National Championship this weekend.
The President of Pan African Scrabble Association (PANASA) Adekoyejo Adegbesan, says, "we believe that the African Youth Scrabble Championship in Nigeria in August will offer opportunity for young talented scrabble players from Uganda to showcase their stills and dexterity on the board and also learn from other players from the continent."
Adegbesan further stated that the Trophy Tour which has so far visited five cities in three different African countries, namely, Accra in Ghana, Eldoret and Nairobi in Kenya, Abuja as well as Lagos in Nigeria, is aimed at creating awareness about African Youth Scrabble Championship.
Gaborone, the Botswana capital is the last city the Trophy Tour will reach in June, before returning to Lagos, Nigeria for the Championship between the 23rd and 28th of August, 2023.
Over a hundred and twenty young scrabble players from 16 African countries will compete for honours in two categories, U-15 and U-19 Championship at the Chrisland School in Lekki – Lagos.