Sports
Senator Enoh canvasses massive private sector investment in sports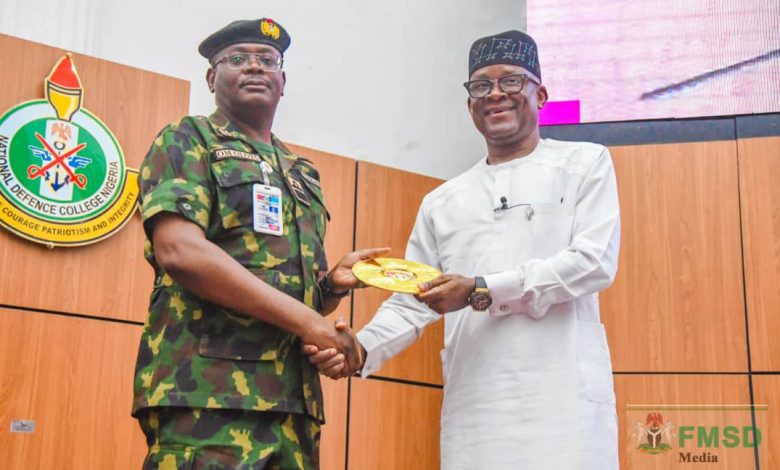 Minister of Sports Development, Senator John Owan Enoh has advised investors and major players in the private sector to take advantage of incentives put in place by the current administration to invest massively in the sports sector.
Delivering a lecture titled, "Sports Development as a Panacea for National Unity and Economic Development", at the National Defence College in Abuja on Tuesday, the Minister described sports in Nigeria as untapped gold mine for economic development.
He said that sports have the capacity to provide gainful employment to millions of youths and other unemployed Nigerians, if properly harnessed.
"The new vision and thinking of government, led by President Bola Ahmed Tinubu classifies sports as business. It is the right approach to jumpstart the desired transformation of sports in our country.
"I therefore invite the private sector, investors, the civil society and the global sports community to join the present administration of President Bola Ahmed Tinubu in its effort to fully unlock the economic potential of sports in Nigeria and in the process, unleash one of the most consequential transformations of the 21st century."
It is for this reason he said the Ministry of Sports Development under his leadership is committed to the implementation of the National Sports Industry Policy (NSIP) with incentives for investors.
Senator Owan Enoh stated that sports has the potential for wealth creation, employment generation and the ability to make substantial contributions to the nation's Gross Domestic Product (GDP).
He lamented that this huge potential had been squandered due to inaction and missed opportunities.
The minister assured prospective investors and Nigerians that the Ministry of Sports Development will create an enabling environment for sports to thrive not just as a recreational activity, but as business.
"I want to assure stakeholders in this critical sector and sports loving Nigerians that as a government, we are committed and determined to ensure the full implementation of this policy document in order to harness the transformative capacity of sports for the economic development of our country", he said.
As a universally acclaimed unifying force, he described sports as a unique connective rod that binds people together.
Senator John Owan Enoh reiterated the commitment of the Tinubu-led administration to transform the sports sector, a vision which informed the decision to create a separate Ministry of Sports Development.
Apart from formulating policies and implementing programmes aimed at developing sports at the grassroots level within the institutional framework which includes National Sports Festival (NSF), National Youth Games, and Sports Development Centers among others.
He listed some focus areas the ministry would pay full attention to under his leadership.
These include expanding and improving School Sports Games, implementing a strategic plan to define the growth path for discovered talents, improved welfare for athletes and Public Private Partnerships for upgrade of essential sports infrastructure.