Sports
Senator Enoh commends organisers of Pitstop Cycling race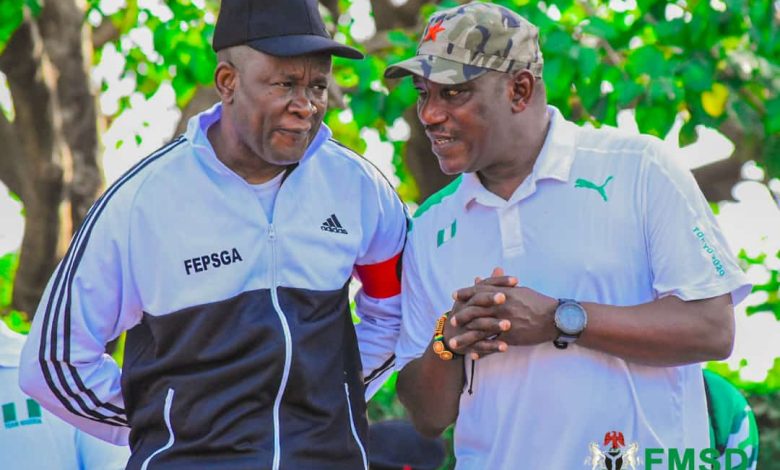 The Honourable Minister of Sports Development,Senator John Owan Enoh was present at the Pitstop Lagos Criterium, a monthly cycling race organized by the Pitstop community to promote grassroots cycling , athleticism and Adopt a Youth initiative which seeks to shape responsible, dedicated, and exemplary youths through academic sponsorship, cycling, employment and mentorship by senior members of the cycling community.
The Minister stated clearly the commitment of President Bola Ahmed Tinubu's 'Renewed Hope Agenda' for Sports Development in the country, paying apt attention to the various sports and their Federations for proper development from the grassroot through to advanced levels.
"The race is highly appreciated ,and we should be encouraged by Governments presence " he said.
Giving the Sports Minister a brief on the Pitstop Cycling community,Adebisi Adebutu a senior Pitstop mentor said the consistency of the event for the past four years has attracted major corporate sponsors such as Access Bank, Craneburg Construction and Ìlúbìrìn Lagos Island.
Mentor Adebisi said :
"This has in turn spiked interest in cycling such that it has become the fastest growing sport in the country attracting a wide demography from across professional and recreational cyclist. Cycling has developed this deep ecosystem that is providing hope and opportunity to the young people involved in the sport".
He further mentioned that the cycling community has promoted the "adopt an athlete" initiative of the Sports Ministry that has seen so many athletes being supported by recreational riders.
The Honourable Minister of Sports lauded the Sponsors of the event and encouraged more Corporate Organizations , the private sector to be encouraged to do more.
" Having me come here sends a signal on the Ministries Openness to collaborate with corporate organisations to develop grassroot sports and encourage greater private sector participation".
Pitstop Lagos Criterium had 50 participants and three teams; team Access, team Craneburg and team Ilubirin . The competitors did 23 laps on the Dolphin loop.
Isaac Gana emerged 1st position and winner of the grand prize of one million naira . Team Access won the best team .
The event was graced by top members of the community who are also mentors including Adebisi Adebutu,John Adesioye,Busola Songonuga and Femi Ehindero.