Sports
South/ West YSFON commends Sanusi for sponsorship of Ilaji U-16 soccer tourney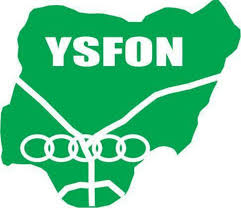 Youth Sports Federation of Nigeria ( YSFON) South/ West zone has commended Chairman/ Chief Executive Officer of Ilaji Hotels and Sports, Akanran, Ibadan, Oyo State Engr. Dotun Sanusi for his efforts at grassroots sports development even as it appreciated him for accepting to host the forthcoming Ilaji Football tournament for U-16 boys.
In a goodwill message signed by the South/ West Vice President of the Federation, Rafiu Abayomi Akanbi, A. K. A, Oluaye it described him as a true sports lover and philanthropist who has used his God given resources to impact positively on the youths through his various sponsorship of grassroots sports programmes, noting that his name will always be written in gold as a supporter of grassroots sports development.
" We at YSFON are happy that you accepted to host this tourney which is a further testimony of your commitment to grassroots sports development as well as creating more opportunities for young lads aspiring to realize their dreams of making a living in the round leather game and we shall always be grateful to you", the statement said.
Akambi appealed to other well meaning Nigerians to emulate Engr. Sanusi and invest more in grassroots sports development as a way of empowering the youths.
"It's important that I appeal to other well meaning Nigerians to emulate what Engr. Sanusi is doing in grassroots sports development because government cannot do it alone
He also assured all participating state that the South-West zone is working round the clock to ensure they enjoy the best hospitality Ibadan in particular and Oyo State generally is noted for throughout the duration of the competition.
Meanwhile, YSFON, National has perfected plans to serve off the tournament come,27th, November,2023. As teams are expected to arrive venue on before 27th.