News
Stampede at Mugabe's state funeral leaves several injured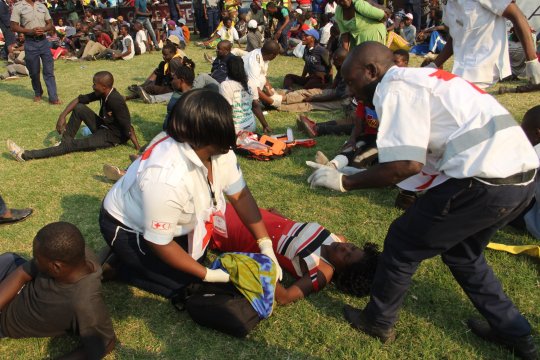 Several people were reportedly injured when huge crowds of mourners rushed to view the body of Zimbawe's founder Robert Mugabe at his state funeral yesterday.
Crowds surged past a police cordon to pay their respects to Mugabe, causing a stampede at Rufaro Stadium, Africa.news reports.
It happened as African leaders and envoys gathered at the 60,000-capacity stadium in Harare, the country's capital, for a ceremony to honour the former leader. Pictures show members of the red cross carrying people out on stretchers as thousands line up to view the body of Mugabe. Others can be seen running past security guards and lying on the ground receiving treatment for injuries.
Mugabe was the nation's first post-independence leader, and many Zimbabweans are choosing to remember the former leader's achievements, rather than the political violence and economic chaos that marked the later years of his 37-year-long presidency.
The funeral came a day after a dispute over where Mugabe's body would be buried was settled. Yesterday it was announced that his burial has been delayed for at least a month until a special mausoleum can be built for his remains.. President Emmerson Mnangagwa said that his burial will be postponed until a new edifice for his body can be constructed at the national Heroes' Acre monument in Harare. However, relatives said he wished to be buried in his hometown after falling out with the government when he was overthrown in a military coup in 2017.
Mugabe died last week in Singapore aged 95. He ruled Zimbabwe with an iron fist for almost 40 years before he was overthrown. To his supporters, he is remembered as a revolutionary hero who helped free Zimbabwe from colonialism and minority white rule.