Sports
STAR University, taking sports tourism to higher level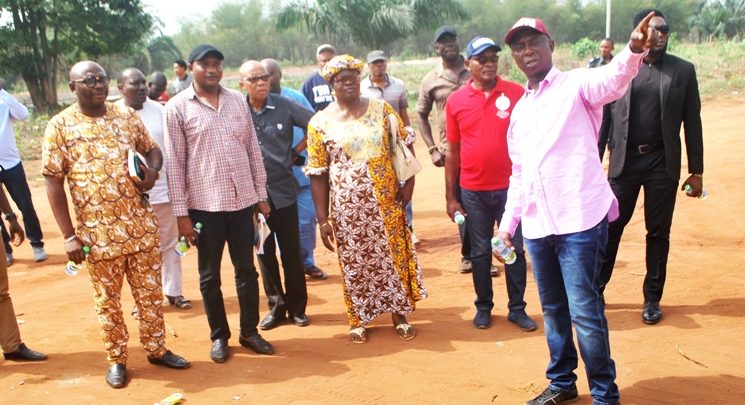 Hon (Prince) Ned Nwoko pointing the way forward during a recent inspection of construction work at the university site.
By Nkem Osu
Beyond the façade of a serene agrarian community, Idumuje –Ugboko in Aniocha North Local Government Area of Delta State is host to a unique citadel of leaning-The STARS University which is the acronym for SPORTS, TECHNOLOGY AND ARTS UNIVERSITY; a creation of Hon Prince Ned Nwoko's fertile mind, who interestingly is a blue blood of the Kingdom.
The uniqueness of this university, is anchored on its multi-discipline concept prominent amongst which is offering professional first degree certificates courses in Sports related fields, a privilege hitherto enjoyed in the UK, US, Russia, Bulgaria and other developed countries around the world. Interestingly, it will also offer Technology and Arts courses as the case with conventional universities.
In effect, this distinctive citadel is poised to address the epileptic sports development initiatives, due to the paucity of professionals to handle the critical areas of policy and developmental programmes, that are germane to sports development in Nigeria and in fact the sub Saharan Africa.
Now a perusal of the envisioned curriculum of this university intends to run, is somewhat, a tacit attestation to the futuristic advantages derivable there in. They include but not limited to Bachelors of Science in Sports Science and Technology, Sports Economics, Sports Communication, Sports Sociology, Sports Tourism and Events Management. There is equally Sports Physiology, Sports Security and Stadia Management, Sports Marketing and Advertising, Special Sports, Coaching Technology Others include Sports Sociology, Sports Physiology, Sports Security and Stadia Management, Sports Marketing and Advertising, Special Sports and Coaching Technology.
Prince Ned Nwoko's determination towards the take-off of The STARS University, is exemplary considering his daily personal monitoring of the ongoing construction work at the site, which spans over 200 hectares.
The multi-million dollar project will upon completion have an academic building of three floors, a state of the art library, and medical centre with facilities akin to those used in university teaching hospitals.
While conducting this writer and some other sports technocrats round the site, Prince Nwoko posited that" The institution will also have a minimum of four standard pitches for Soccer, Rugby, Hockey, Baseball/Cricket and other field events, not leaving out an Olympic size swimming pool, ultra-modern Indoor sports hall, race tracks for long distance athletics, cycling, motorsport and an 18-hole golf course".
The University will also have a 5- star hotel, which will be powered by Solar and Windmill power generation options. It will function as a fluid combination for sports and academics, to broaden the options of men and women who opted for Sports as a career, "It is expected to positively stimulate young sporting talents into self-actualization through providing a feasible and secure career path", he enthused.
Beside the novelty of the academic curriculum notion, Prince Ned Nwoko emphasized that "The institution when maximally operational, will undoubtedly encourage the synthesis of sports and tourism", citing a suitable analogy of the English Soccer Premiership whereby the scheme is accorded a global acknowledgment.
Ultimately, this institution will rekindle the sports tourism potentials in Delta State, Nigeria, Africa and the global community as students and officials of the institution will arrive in droves to service the sector
Hon Ned Nwoko never minced words as he advanced that "The English Premiership that enjoys global attention and viewership blossoms on the core principles of "SPORTS TOURISM".
"Take for instance the premiership, anytime Manchester United travels out to London as gustes to Chelsea, their faithful will go to cheer them, While there, they will purchase the club's memorabilia, pay for hotel accommodation and sundry services. This is what I intend to introduce as this edifice will replicate those enviable services that had been in existence in other climes".
Lending support to the above submission, Mr., Emmanuel Ayinor Ojei, a retired Director at the Federal Ministry of Education concurred with Prince Nwoko's idea that" Without equivocation, this institution is one that has the potential of not only revolutionizing sports administration in Nigeria and the global community but also possesses the propensity to engender a virile tourism industry as precursor to improved revenue generation".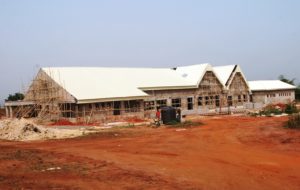 Similarly, Martha Jugah, the Director, Technical Services at the Delta State Sports Commission observed that" The STARS University is about the best thing to happen to sports development in Nigeria and the global community.
In the same vein, the project Director, Mohammed opines that the University when fully operational will be a distinctive ivory tower in tis clime;" I have been to several countries and I can say that this university is one that would naturally impact positively the standard of sports development in Nigeria, Africa and the entire world"
Indubitably, Prince Nwoko's resolve to establish a citadel of this ilk might have been borne out of his personal experience as a budding secondary school soccer prodigy which was terminated by his desire to qualify as a lawyer.
"Sports means life to me, when I was a young child, I had the option of going into sports. However I chose to read law. Today you will no longer have to choose between such hard choices because you now have the opportunity of studying in the university and still do sports. This is another reason I decided to build a sports university called STARS UNIVERSITY, one of its kind in the whole West Africa. It makes me feel proud as a Deltan and Nigerian wherever I am in the world. I have decided that we must catch them young and provide them with the best opportunity to excel in life."
Prince Ned Nwoko's elasticity of philanthropy holds the power to revealing the innate convictions of a man, who is a dye-in- the –wool advocate of responding affirmatively to the needs of the mass citizenry. More often than not, the commitment to transforming his immediate locality, portrays him as one who tirelessly and altruistically invests in humanity.
Osu, a veteran sports journalist, wrote in from Lagos