Sports
Swim against malaria championship ends in Lagos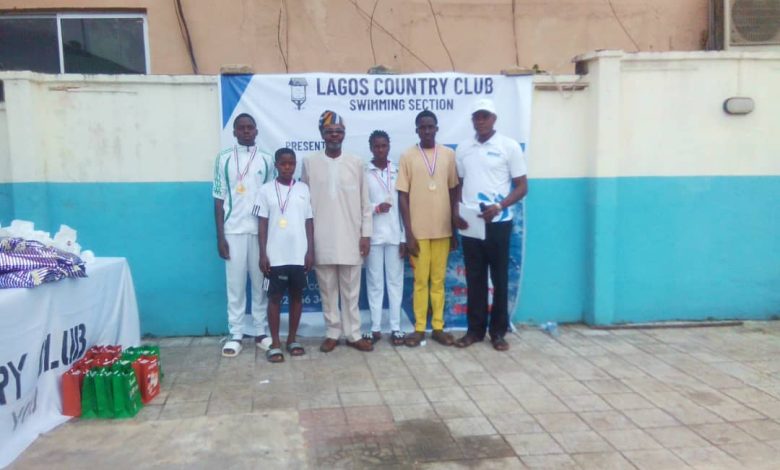 By Ifeanyi Eduzor
The swimming section of Lagos Country Club, Ikeja was a behive of activities Saturday when the club organized the 8th edition of its annual 'Swim Against Malaria' championship.
The event which attracted both present and past executives of the club including patrons and members featured children, adults and veterans who showed their skills in freestyle, breaststroke, mixed doubles relay and water polo.
Speaking at the well attended event, President of the club, Architect Funmi Bamkole commended the swimming section for a job well done just as he advised the swimmers to take the sports serious in order to make a mark in it in future.
" I'm happy with what I saw today and must commend members of the
committee for putting up a grand championship and I want them to sustain it and make the next edition more glamorous.
"It's also important to advise all the swimmers to take the game serious as they're capable of becoming world beaters in the sports.
Chairman of swimming section of the club, Olusoji Henry Ayoko explained that they chose eradication of malaria for the tournament because the tropical disease is one of the most killer diseases in the West African sub- region and there is need to create more awareness about the scourge.
"A lot of people have been asking me while malaria and not COVID-19, asthma, sickle cell, stroke, tuberclousis and other sicknesses but the truth is that while all these sicknesses are life threatening, malaria has been described as the number one killer disease in this part of the world and it's necessary that we continue to create more awareness about the scourge and I believe we're on the right course.
"It's equally important I commend the Lagos State Aquatic Association for their technical support and we look forward to more support from them", he said.
Patron of the club who also doubles as Technical Director of Aquatic Federation of Nigeria, Patrick Egbele explained that the Federation is happy with what the club is doing which is in synergy with its grassroots development programme even as he announced that the Federation will soon include it in its annual calendar.
" I came here both as patron of this prestige club and as representative of President of Aquatic Federation of Nigeria who has expressed her gladness with what the club is doing in developing swimming at the grassroots which is in tandem with her vision for developing the game and she has assured me that modalities will be put in place to include it in the Federation's annual calender.
He also announced that as part of efforts to further develop the game, a coaches conference will soon be organized while water polo will be an exhibition sports at the forthcoming National Sports Festival to be hosted by Delta State.
Sports secretary of the club and first Nigerian rower/ ex- international swimmer, Babatunde Egbele described the championship as a huge success and was excited by the number of kids that took part in the one day event expressing hope that some of them could become future champions if well nurtured.
"We saw some talented swimmers here today and some of them set good records and I can assure you that with adequate mentorship, some of them can become future champions both nationally and internationally", he stressed.
Meanwhile winners of the male and female U-14 and above 50 meters freestyle event, Adekoga Ayomide Oluwatobi and Oti Immaculata Odinakachukwu said their target is to rule the world in water sports.
In separate interviews with our correspondent, they expressed their willingness to participate in future tournaments which they hope will give them adequate exposure in the game.
"We're really excited with our victory because prior to the competition, we never thought we could win because of the number of participants and this victory will challenge us more as our target is to continue to improve on our form and in future become world swimming champions", they chorused.
At the end of the entertaining tournament, winners went home with medals and gift items while there was cash reward for the water polo players.