Sports
Swimming World Cup: Berlin cheers favourite son Florian Wellbrock to thrilling victory as Haughey, Nelson, Sates post impressive wins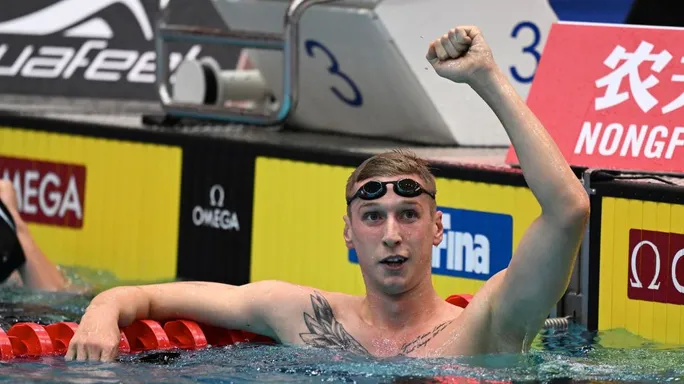 By Andy Ross, FINA Correspondent
The Berlin crowd was out in full force on Saturday evening in the German capital as the fans cheered on one of their best swimmers in history – Florian Wellbrock in the 1500m freestyle as he won with a 14:25.41 ahead of training mate Mykhailo Romanchuk of Ukraine at 14:26.69.
"Yeah, that was amazing," Wellbrock said. "Yesterday, I was a bit disappointed because my 400m freestyle wasn't what I wanted. Today, it was really fast. My aim was to swim under 14:30 and it was 14:25 so I'm really happy with it."
Wellbrock is one of the star attractions at the meet in Berlin as the world record holder and Olympic medalist in the 1500m freestyle he was able to put on a show for those that came to cheer him on.
"It's incredibly cool to have this many fans at the pool here in Berlin, we haven't had that for a long time. I think it was a very, very good decision by FINA to do the swimming and diving world cups together. It works very, very well and it's just amazing here at home. I'm not a Berliner, but I still say it's my home. It's just so much fun to swim here.
"Even if this isn't the sporting highlight of the year for me, it's definitely the emotional highlight. Of course, we haven't all been in training for that long, there are definitely a few others internationally who have prepared much better than we have. But I think we've done a very good job here so far and I'm very happy with my performance.
The two have famously trained together this year with coach Bernd Berkhahn at Wellbrock's invitation as Romanchuk was forced to leave his home nation of the Ukraine in wake of the ongoing war.
"Training back home in Magdeburg, it's like a competition every day so today felt 50/50 like a training day," Wellbrock said. "It's so strong and great to train with Mischa every day. It's so much fun."
A theme of the Berlin World Cup has been stars finding some redemption in their swims after self-admitted disappointing swims this summer.
South Africa's Chad Le Clos and Matthew Sates are two of the favourites to chase the overall FINA Swimmnig World Cup title and both of them won events on Saturday with Le Clos winning the 200m butterfly in a 1:49.62. The time is his fastest in nearly two full years, as he is looking like the Le Clos of old. His time comes hours after Japan's Tomoru Honda annihilated the world record with a 1:46.85, taking down Daiya Seto's mark from 2018 of 1:48.24.
"I'm very happy; that's the best time I've done in a long time," Le Clos said. "That's faster than my world champs last year; that would have got me silver. I had the world champ on my left. You always want to race the best in the world."
"Honestly, I'm not going to play it down: yesterday was a huge moment for me and for my career. I don't want to say it's been such a devastating two-and-a-half-years, but it has been in my career.
"Yesterday was a huge win mentally for me. It took a huge pressure from me off my shoulders. Not because of anything in particular, just getting a win against a top field with the world champ in it. And 48.5, top-eight in history. I'm looking forward to Melbourne, a stepping stone towards this. It's always great to race in Berlin. And the fans. There was a lot of fans out tonight. That's nice."
Sates won the 200m IM at 1:51.64 as he is just off his best time of 1:51.45 from last year's World Cup in Berlin.
"I'm pretty calm, I'm in a pretty good mindset," Sates said. "I feel like it's coming a lot easier to me. My recovery, especially out of the pool feels good.
"Obviously, I love the Swimming World Cups. FINA puts on good events, which is really cool. You'll see me here for the next decade."
Sates is currently leading the men's overall points standings with 55.5 points while Le Clos is in third with 39.1 points behind Austria's Bernhard Reitshammer (40.4 points).
USA's Beata Nelson has also presented herself as one of the favorites for the World Cup overall title, winning the 100m backstroke at 56.03, ahead of Canada's Kylie Masse (56.32). Nelson is winning the overall standings for the women with 49 points ahead of USA's Hali Flickinger (47.2 points).
However, Nelson will have her hands full with Hong Kong's Siobhan Haughey, who won her second event of the weekend with a 1:51.36 in the 200m freestyle. Haughey did not race this summer at the World Championships due to an injury, but she hasn't shown the ill effects of that, tying the 12th fastest performance of all-time in the 200m freestyle. Haughey is currently fourth overall with 39.3 points.
Lithuania's Ruta Meilutyte continued where she left off in the FINA World Cup, swimming a 1:03.07 in the 100m breaststroke on Saturday evening in Berlin. It is the 27th fastest time of all-time as she is less than a second away from her own world record that she shared with Jamaica's Alia Atkinson(1:02.36).
Meilutyte briefly retired from swimming in 2019, but has made her return, winning the FINA World Championships title this summer in the 50m breaststroke, ten full years after the world saw her win the Olympic title as a 15-year-old in the 100m. Meilutyte looks to be on the march towards a return to the Olympic podium with less than two years to the Games in Paris. Meilutyte won ahead of Tes Schouten(1:04.71) of the Netherlands.
Australia's Kyle Chalmers won his first event of the weekend, swimming a 45.88 in the 100m freestyle, coming home in a quick 23.79 on the back 50m.
"I love having a crowd, I think there's no better way than to perform in front of a crowd," Chalmers said. "As soon as I found it's a sell-out crowd, that gets my energy going…I heard them when I walked out which lifted me up. Knowing that they're there is all that matters."
USA's Nic Fink (50m breaststroke) and Trinidad & Tobago's Dylan Carter (50m backstroke) each won their second event of the weekend with Fink claiming the sprint at 25.86, while Carter won in an upset over Italy's Thomas Ceccon at 23.15 to Ceccon's 23.22. Fink and Carter are currently fourth and fifth in the overall men's standings.
USA's Hali Flickinger (400m IM) and France's Beryl Gastaldello (50m butterfly) also won events on Saturday in the German capital. Flickinger won the IM at 4:30.36 while Gastaldello won the butterfly at 25.16.
"As I said before: A win is a win, so it's really exciting," Gastaldello said. "But I am lucky because I made a lot of mistakes, and usually that would have cost me the win. But I will correct what needs to be corrected at the next meet. I take the win and move on to what's next. Tomorrow there is the 100m free. It's gonna be a tough field, people are gonna go fast, so I am excited to race."