Sports
Team Nigeria dictate pace at African Scrabble Championship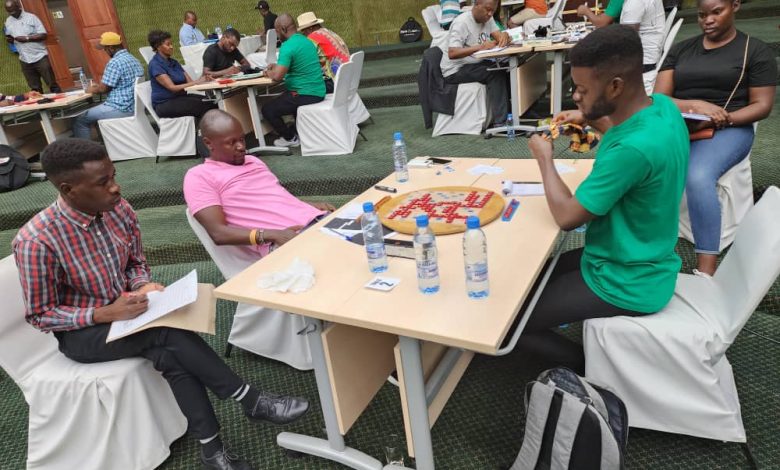 By Ifeanyi Eduzor
As expected 'Team Nigeria' is dominating the 14th African Scrabble Championship currently going on in Lusaka, Zambia after a thrilling Match Day One.
University of Lagos student, Enoch Tochukwu Nwali is leading the pack after eight grueling rounds of games. The Ebonyi State born Scrabble Eagles is yet to drop a game and he has a cumulative of plus 870 points.
In one of the best games for Nwali on day one, he took home boy Fred Kanshamba to the cleaners with a 549-315 win on table 2.
Former African Champion Nsikak Etim is giving Enoch Tochukwu Nwali close marking with 7 wins and a plus 875 cumulative points ahead of another Scrabble Eagles Prince Omosefe who is also on 7 wins but with a lower cumulative points of plus 603.
Three other Nigerians are also in the top ten bracket. Wellington Jighere in the 5th spot, Bukunmi Afolayan is occupying the 8th position and Dennis Ikekeregor a former African King is sitting on 9th spot.
From the 5th to the 11th position, cumulative points separate them as they all have six wins each.
Nigeria's Bukunmi Afolayan is the leader in the female cast in Lusaka, Chiamaka Gabriel is not far off on the table just as the deputy captain of 'Team Nigeria', Tuoyo Mayuku.
The best non Nigerian on Day One is Ghana's Charles Tachie-Menson who is staying in the 4th place on the table with a plus 223 cumulative points from 7 wins.
Two Kenyans, Allan Oyende and David Kimani are 6th and 7th on the log while Zambia's best show is Paul Kalumba who completes the top ten on day one in the individual title chase.
One of the best winning margin was recorded by two time African Champion Wellington Jighere over Kenya's Hillary Busienei on table 1 in game 1 with a 592-248.
In the Team event, 'Team Nigeria' is dominating the field ahead of Kenya and Uganda.
Team Nigeria is the only contingent at the Championship that is fully kitted. On day one, they were dressed in green and we gathered that they will be wearing white on Match Day 2 with a touch of green
Enoch Tochukwu Nwali will continue his excellent run in the championship with a mouth watering clash against Prince Omosefe in the first game of Match Day 2.
The clash of two former winners is also on the card in game 9 as Nsikak Solomon Etim battles Wellington Jighere while the leading amazon Bukunmi Afolayan has her hands full against Stanley Njoroge of Kenya.
Another Nigeria against Kenya is a clash between former African Champion Dennis Ikekeregor and Allan Oyende who is presently sitting among the big guns.
Thev age long rival between Ghana and Nigeria will be witnessed as current number 4 on the table, Charles Tachie-Menson meets Team Nigeria's captain Oshevire Avwengha. Adedeji Khaleel and Edwin Boama.
Eta Paul Karo will move into the top ten with a win over Alvin Roberts of Liberia while it will be an all Nigeria affair with Olatunde Oduwole meeting Chiamaka Gabriel.
One of the much anticipated confrontation on game 9 is the face-off between home boy Paul Kalumba and Kenya's David Kimani while Emmanuel Umujose has an early morning score to settle with Uganda's Edgar Odongkara.
Other pairing involving Nigerians are; Bright Idahosa against Onani Magwanga of Kenya with John Curtis facing Francis Wachira while Kenyan Tuoyo Mayuku will square up against Andrew Goldberg of South Africa.