Sports
Thieves vandalize National Stadium cables as management goes tough on visitors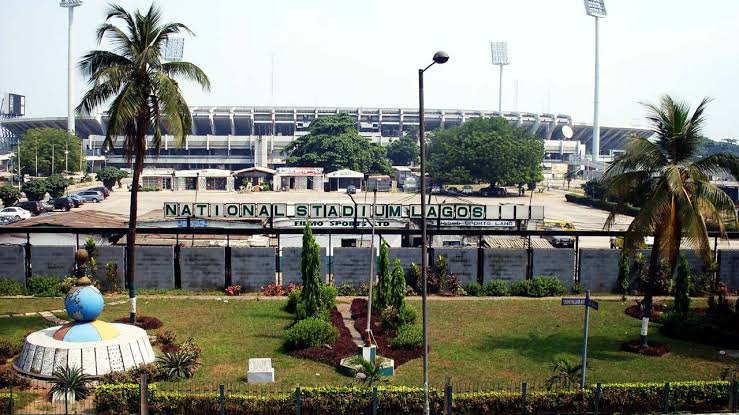 The relative peace and security being enjoyed by the National Stadium, Surulere, Lagos seem  to have been compromised following series of vandalisation of facilities at the Stadium.
Our investigation revealed that in less than two weeks, thieves have been having a field day at the Stadium without any arrest  by either the Stadium Police or local security guards employed by the Ministry.
The thieves who came calling last week carted away cables and batteries  of the generator at the back of the  Indoor Sports Hall of the stadium and came again over the weekend to steal the batteries of the generator and cables serving the Main Bowl of the Stadium. This prompted the Stadium management to embark on renting of generators to power facilities at the Indoor Sports Hall to enable those who have paid for it's use for  basketball clinic to continue their programme
It was further revealed that both incidents were not discovered until some days after the robbery; Immediately after the discovery, the Stadium management decided to go round and take inventory of their facilities to determine the level of the vandalisation.
However, what surprises most  people is that there is a Police Station stationed at the Stadium whose efforts are being complimented by private security guards employed by the Ministry of Youth and Sports  which did not deter the thieves from having a field day at the Stadium. Apart from this, people are wondering how the cables where easily carted away  since it is not what one or two persons can carry as it involves loading them in a vehicle to be moved away  which has raised a lot of questions.
When our correspondent wanted to know the level of the vandalisation from the Lagos Liaison Officer of the Ministry, Nkana Mbora, she stated that she is still taking inventory of the vandalized items and will not make any statement now.
Meanwhile, the stadium management as part of efforts to avert another vandalisation of it's facilities has began restricting the movement of people in and out of the stadium.
As at the time of filling this report, they've already given  marching order to  some people from coming to the stadium till further notice and even threatening them with arrest.
However some of those affected by this order have advised the management to look inwards and re jig their security network positing  that a situation where private security personnel employed by the Ministry are owed close to eight months salary arrears creates room for compromise.